Computer love at June in Buffalo
By Christopher Schobert, photos by Irene Haupt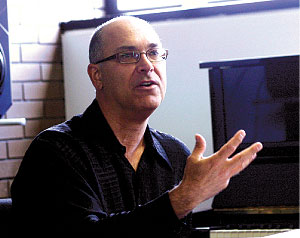 Festival artistic director David Felder

The weather in June tends to be glorious in Western New York, and the annual June in Buffalo festival and conference at the University at Buffalo is glorious, too, a unique opportunity for young musicians to study at the feet of masters, and for audiences to experience bold new compositions and talents.

J. T. Rinker, the managing director for the Robert and Carol Morris Center for 21st Century Music, says the festival's longevity has solidified its local and international reputation. "June in Buffalo is one of the longest running contemporary music festivals in the United States, and it's a great resource for young American composers," Rinker says. "The festival provides exposure to music and musical thought that might only be available in the largest U.S., or, for that matter, international cities." Conceived by Morton Feldman in 1975, the festival has a tradition of presenting great performances of contemporary music by established and emerging composers from around the world. But, Rinker explains, it's June in Buffalo's focus on young composers that really makes it stand out. "Few other festivals devote the amount of resources to the production of works by emerging artists," he says.



Clockwise: The "Red Fish Blue Fish" percussion ensemble; Johannes Fischer
(ensemble) in RITUAL by student Ya-Ting Lee; and a student looking
at a Felder score during Felder's lecture.


This year's theme is Music and Computers, with a focus on music that integrates the use of technology and computers into the composition and performance of musical works. There might be pieces made up entirely by electronic sounds, others that use computers to interact with performers in real time, some that use computers to generate music to be played by performers on acoustic instruments, and pieces that utilize electronic instruments for improvisation and performance. Most exciting of all for the students involved, June in Buffalo's invited faculty are pioneers and experts in their fields. "The festival also brings together a variety of voices," Rinker says. "Composers with wide cross-over appeal like Steve Reich and Philip Glass have appeared at the same festival with academic composers like John Harbison, Charles Wuorinen, and Roger Reynolds."

UB is a wildly international campus, and June in Buffalo is an ideal festival for the school. After all, Rinker says, "contemporary music is an international field, and the resident ensembles and faculty composers represent international leaders in the field of performance and composition. This is a draw for American and international students and audiences alike." The process of acceptance to participate in the festival is always extremely competitive, but the festival itself is not a competition. Instead, its main thrust "is the idea of bringing together a variety of strong, emerging voices," says Rinker. "Ideas for the theme and faculty composers for the festival often come together simultaneously, and are the vision of the festival's artistic director, David Felder. The same is true for resident ensembles and guest performers that are invited to the festival. While it's an annual event, it can be years in the making. Considerations for faculty and ensembles for next year and 2010 have already begun."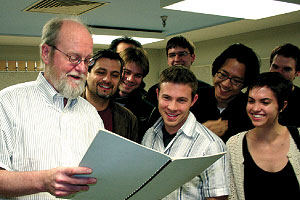 A Charles Wuorinen masterclass

This year's festival—running from June 2 through 7—will be an intense experience for its students, whose days are filled with lectures, workshops, rehearsals, and open-to-the-public afternoon and evening concerts. Plus, says Rinker, there are "usually informal discussions over chicken wings at a local pub at the end of every evening." Many past participants have gone on to greatness, some holding faculty positions in the U.S. and Europe and achieving success as composers. August Read Thomas is just one example. A past June in Buffalo participant, she has gone on to a banner composition career, and even returned as a guest faculty composer. This year's faculty lineup includes: Charles Dodge (faculty member at Dartmouth College); Cort Lippe (Buffalo); Roberto Morales (Mexico City); Miller Puckette (a teacher at the University at California at San Diego); Morton Subotnick, (currently on faculty at Cal Arts); Ben Thigpen (currently freelancing in Paris and teaching in Cuneo, Italy); and Hans Tutschku (a teacher at Harvard).

For more information on June in Buffalo, visit www.music.buffalo.edu.

Christopher Schobert is a graduate of the University at Buffalo. He used to cut through Slee Hall often.