"A Musical Feast Musician Bios"

Charles Haupt | Charles Castleman | Jesse Levine | Cheryl Gobbetti Hoffman | David Felder
David Taylor | Salvatore Andolina | Claudia Hoca | Tony Arnold | Feng Hew | Tom Kolor |
Paolo Cavallone | Jean Kooperud | Paul Todaro | Rin Ozaki | Jon Nelson | Christian Baldini
Jonathan Lombardo | Edmond Gnekow | Martha Malkiewicz | Jonathan Golove | Johnny Reinhard
Carol Wincenc | Nils Vigeland | Jerry Kirkbride | Amanda DeBoer | Amy Williams | Jan Williams
Christina Walsh | Melanie Aceto | Charles Z Bornstein | Mario Lavista | Valerie Heywood
Alan Feinberg | J.T. Rinker | Vincent O'Neil | Elliot Caplan | Charles Wetherbee | Phyllis East
Virginia Barron | Shieh-Jian Tsai | Barry J. Crawford | Alison d'Amato | Carter Enyeart
Ruth Wiesenfeld | Moshe Shulman | Alice Teyssier | Eric Huebner | Immanuel Naylor
Colleen Walsh | Jon Lehrer | Rachael Humphrey | Theodore Krzykowski | Julia Shulman
John Bacon | Bernard Rands | Nathan Heidelberger | Julia Bentley | Kuang-Hao Huang
Wildy Zumwalt | Diane Hunger | Ann C. Colley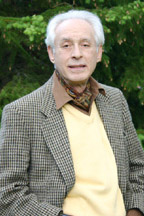 Michael McNeill | Megan Grace Beugger | Esin Gündüz
Daniel Bassin | Dmitri Novgorodsky
David Rose | Natasha Farny | Zhongbei (Daisy) Wu


Charles Haupt - Pulse review - Spree Article [ top ]
Reviews from the Mostly Mozart Festival, New York City:
" Mr. Haupt's lithe and expressive playing is the epitome of singing on the violin. " NEW YORK TIMES

".........the incredible display of virtuosity and stamina by Charles Haupt who was featured in virtually every work of the evening." INTERNATIONAL HERALD TRIBUNE

Charles Haupt was given his first lessons by the celebrated violinist and pedagogue Joseph Gingold. He attended the Julliard School of Music, studying with Dorothy DeLay and Ivan Galamian, and the Manes College of Music where he worked with William Kroll. Mr. Haupt won a Fulbright Scholarship to Paris where he studied with the revered Nadia Boulanger in both performance and composition. During this time he also performed extensively in France, England, Holland and Belgium.

Mr.Haupt became the youngest concertmaster of a major symphony orchestra in the U.S. when he was engaged by the San Antonio Symphony under Victor Allesandro. He was invited to Buffalo by Lucas Foss in 1966 to join The Center for the Creative and Performing Arts at UB , and in turn was awarded the position of concertmaster of the Buffalo Philharmonic in 1969, a post he has filled with distinction, including his duties as yearly soloist with the BPO in a diverse repertoire of concertos by Bach, Beethoven , Brahms, Barber, Delius, Amram and others.

Apart from his Buffalo responsibilities Mr. Haupt has also performed as first violin with the Stravinsky and Koussevitzky chamber music festivals at Lincoln Center , was concertmaster and soloist for several years at the Caramoor Music Festival under Julius Rudel and performed for 21

years at the Mostly Mozart Festival as concertmaster and soloist, also in Lincoln Center. He has been a featured soloist with the N.Y. Philharmonic on several occasions and served as concertmaster for Leonard Bernstein on his last recording of West Side Story for Deutsche Gramophone the video of which has been shown widely on PBS among the Bernstein documentaries.

Mr. Haupt has also performed with the

American String Project in Seattle, was the violinist in the Baird Trio in residence at UB for several years and participated in many festivals around the world, including performances in Italy with renowned pianist Fabio Bidini. He also performs with the new music festival "June in Buffalo" at UB.

Mr. Haupt is a member of the faculty of the Eastman School of Music and has been a frequent coach of members of the New World Symphony in Miami, Florida . He is also the founder of the highly successful concert series "Musical Feast" in Buffalo, NY.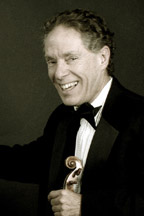 Charles

Castleman - Website [ top ]
www.charlescastleman.com
www.quartetprogram.com

6 year term as Chair Strings Department, The Eastman School of Music
Professor Violin at Eastman 1975-2015
Professor at Frost School of Music, University of Miami 2014-
**Founder/Director Castleman Quartet Program since 1970; 2 current locations –Portland OR and Fredonia NY

CAREER HONORS
International Competition Prizes: Queen Elisabeth (Belgium)..Silver Medal; Tchaikovsky (Russia)..Bronze Medal
Recognition: Life Achievement Award and dedication of Castleman Music Library–Thayer Academy (Braintree, Massachusetts)
Biographical Mention: New Grove, Bakers; New International Dictionary of Music

SOLO PERFORMANCE
Only live performer on national TV broadcast honoring Fritz Kreisler on 80th birthday....premiere recital of Solo Sonatas of Ysaye in Tully Hall, NYC, Orchestras of Boston, Chicago, Dallas, New York, Philadelphia (Ormandy- D&I Oistrakh & Szeryng there in support), St Louis, San Francisco,. Brussels, Hong Kong, Kiev, Mexico City, Montreal, Moscow, Seoul, Shanghai.

CDs:
Ysaye Sonatas for Solo Violin (NONESUCH ), (MUSIC&ARTS );
Sarasate Zigeunerweisen, Carmen & Faust Fantasies, etc(MUSIC & ARTS );
Hubay Scenes from the Csarda (MUSIC&ARTS);
Amram 3 Concertos (ViolinConcerto) (NEWPORTCLASSIC )
Violin with Harpsichord: Milhaud, Piston, Martinu, Dvorak (ALBANY)
Gershwin: Short Story & Antheil Violin Sonata #2 (MUSICMASTERS)

CHAMBER MUSIC PERFORMANCE: NEW STRING TRIO OF NEW YORK (Paul Doktor/J Langham) 1971Ą4; RAPHAEL TRIO (Susan Salm/Daniel Epstein) 1975Ą2000

Recordings:
Reger String Trios (BASF); Frank Martin Trios (BASF); Dvorak f Piano Trio
(NONESUCH); Mendelssohn Piano Trios (DISCOVERY); Dvorak Piano Trios Nos. 1 and 2 (SONYCLASSICAL); Beethoven "Kakadu" Variations,
Trio in Eb[Sextet] (UNICORN); WolfĄFerrari Piano Trios (ASV)

BESIDES THE VIOLIN:
1. Musicologist: "Tre Dame di Ferrara" (l'Anuario Musicale)..an edition and treatise on the 16th century madrigals of Luzzasco Luzzaschi; "The Romantic Violinist-Composer (Cazeaux Festschrift)
2. Actor: as teenager had a starring acting role on the Philip Morris Playhouse
3 Organizer: founding Vice President Curtis Institute Alumni Association

EDUCATION: A.B. HARVARD; B.M. CURTIS INSTITUTE; M.A. UNIV OF PA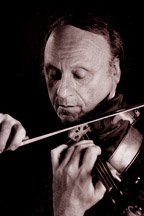 Jesse Levine [ top ]
Remembering Jesse Levine
Feb. 21, 1940 — Nov. 11, 2008
Jesse Levine, violist and conductor, is Professor (Adjunct) of Viola and Chamber Music and Coordinator of the String Department at the Yale School of Music, and Music Director and Conductor of the Purchase Symphony Orchestra at the Conservatory of Music at the State University of New York at Purchase.
Mr. Levine has held the positions of Music Director and Conductor of the Norwalk Symphony Orchestra, the Orquesta del Principado de Asturias in Spain, the Chappaqua Orchestra and the Feld Ballet. A noted violist as well as conductor Mr. Levine has been Principal Violist of the Buffalo, Dallas, Baltimore and New Jersey symphony orchestras and has appeared as conductor or as viola soloist, recitalist and chamber musician in Europe, South America, Israel, Australia, Mexico and throughout the United States.
As an active guest conductor some of the many orchestras directed by Mr. Levine include the Puerto Rico Symphony, the Granada Symphony Orchestra (Spain), the Rochester Philharmonic, the Brooklyn Philharmonic, the Buffalo Philharmonic, the Orchestra of the Kennedy Center, the National Orchestral Association at Carnegie Hall, the Ives Center Orchestra, the Colorado Music Festival Orchestra, the New World Symphony, the Texas Festival Orchestra at the Round Top Festival, the Orchestras of Paraiba and San Paulo (Brazil), the Orchestre Symphonique Francaise in Paris and the New York Chamber Symphony at Lincoln Center. Mr. Levine, known for his work in contemporary music, had frequently been invited to conduct the Buffalo Philharmonic Orchestra in its annual North American New Music Festival, and continues to participate in the annual June-in-Buffalo Festival, both Festivals devoted to the performance of new music. With the June-in-Buffalo Festival Orchestra he recently recorded Morton Feldman's "The Viola in my Life" (IV), the first recording of this major work, for EMF. In the dual role as Conductor/Teacher Mr. Levine has conducted the National Youth Orchestra of Spain in Madrid, the Youth Orchestra of Andalucia in Seville, and the Youth Orchestra of Catalonia in Barcelona, Spain. As a member of the Bruch Trio he has recorded the music of Max Bruch, Rebecca Clarke, Jean Francaix, Gordon Jacob and Mozart for Summit Records.
In addition to his active performing schedule as conductor and violist Mr. Levine has been a member of the faculties of the State University of New York at Buffalo and Stony Brook, and at the Peabody Conservatory of Music in Baltimore. Frequently invited to present Master Classes in viola, Mr. Levine has offered these Classes at Festivals in Madrid, Valencia, Barcelona, Morella, Segorbe, San Sebastian, Cartagena and Vitoria (Spain), Festival Flaine Musique (France), and the Paris and Lyon Conservatories of Music.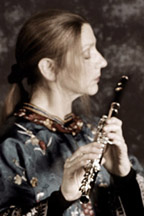 Cheryl Gobbetti-Hoffman - Website [ top ]
October 6 1953 - Aug.1 2008 www.buffalonews.com/obituaries/story/405274.html
Cheryl Gobbetti Hoffman is a wonderful flutist, with plenty of techniques and grace enough to spare… she is a member of the University at Buffalo's Music Department faculty, and former member of the Buffalo Philharmonic Orchestra. While these are distinguished credits on any resume, they don't begin to suggest Gobbetti Hoffman's originality, both as a music administrator and a programmer. As a champion of her chosen instrument she has organized a flute advocacy group with the whimsical name of Who-o-o-osh, and in her faculty position she's founded a large ensemble that performs under the name Plosion…", writes the Buffalo News. Cheryl credits a scholarship to the Manhattan School of Music and international masterclass studies with James Galway, Aurele Nicolet, and Peter Lloyd for informing her performance concepts and flute voice. Other mentors include Mischa Schneider, members of the original Cleveland Quartet, pianist/composer Leo Smit, and Michael Tilson Thomas.


David Felder [ top ]
Composer Web Site | Computer love at June in Buffalo
DAVID FELDER has long been recognized as a leader in his generation of American composers. His works have been featured at many of the leading international festivals for new music including Holland, Huddersfield, Darmstadt, Ars Electronica, Brussels, ISCM, North American New Music, Geneva, Ravinia, Tanglewood, Aspen, Music Factory, Bourges, Vienna Modern, IRCAM Agora, Musique En Scenes, ISCM World Music Days, and many others, and earns continuing recognition through performance and commissioning programs by such organizations as the New York New Music Ensemble, BBC Orchestra, Arditti Quartet, American Composers Orchestra, Buffalo Philharmonic, American Brass Quintet, Ensemble InterContemporain and many others. Felder's work has been broadly characterized by its highly energetic profile, through its frequent employment of technological extension and elaboration of musical materials (including his "Crossfire" video series), and its lyrical qualities.
Felder has received numerous grants and commissions including many awards from the National Endowment for the Arts, two New York State Council Commissions, a New York Foundation for the Arts Fellowship, Guggenheim, Koussevitzky, and two Fromm Foundation Fellowships, two awards from the Rockefeller Foundation, Meet the Composer "New Residencies" (1993-1996) with the Buffalo Philharmonic, two commissions from the Mary Flagler Cary Trust, an Argosy Foundation commission, and many more.
Currently, Felder is Professor of Composition at the University at Buffalo, where he has held the Birge-Cary Chair in Composition since 1992, and has been Artistic Director of the"June in Buffalo" Festival from 1985 to the present. In 2006, he founded the " Center for 21st Century Music" at the University at Buffalo and assumed the Directorship in Fall, 2006. From 1992 to 1996 he was Meet the Composer "New Residencies", Composer-in-Residence to the Buffalo Philharmonic Orchestra and WBFO-FM. In 1996, he formed the professional chamber orchestra, the Slee Sinfonietta, and has been Artistic Director since that time. His works are published by Theodore Presser, and a first full CD of his works was released to international acclaim (including "disc of the year" in chamber music from both the American Record Guide, and BBC Music Magazine) on the Bridge label (Bridge #0049) during 1996. A second disc containing orchestral work was released by Mode Records (Mode #89; "Editor's Best of the Year" selection, Fanfare Magazine, 2002) in Spring, 2000, and EMF #033 was released in July, 2001, containing premiere recordings of orchestral works by Morton Feldman and David Felder (two works for each composer) to very enthusiastic critical review. A dvd-audio project featuring works with electronics is in preparation and will be released in late 2007.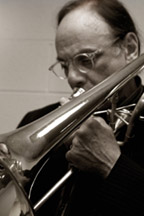 DavidTaylor - Website | ITA Cover Photo [ top ]
Receiving B.S. and M.S. degrees from The Julliard School of Music, David Taylor started his playing career as a member of Leopold Stowkowski's American Symphony Orchestra, and by appearing with the New York Philharmonic under Pierre Boulez. Simultaneously, he was a member of the Thad Jones Mel Lewis jazz band, and recorded with groups ranging from Duke Ellington to The Rolling Stones. He also recorded numerous solo CDs on the following labels: Koch, New World, ENJA, DMP, Tzadik, CIMP, and PAU.

Mr. Taylor performs recitals and concerti around the world, from Lincoln Center in NY with the Chamber Music Society of Lincoln Center, the NY Chamber Symphony and the St Luke's Chamber Orchestra to Switzerland's Basel Sinfonietta, Australia's Adelaide Symphony, and to the Niederösterreich Tonkünstler Orchestra at the Musikverein in Vienna. He has been involved in dozens of commissioning projects for the bass trombone in solo and concerto idioms; collaborating with composers including Alan Hovhaness, Charles Wuorinen, George Perle, Frederic Rzewski, Lucia Dlugoszchewski, Eric Ewazen, David Liebman, and Daniel Schnyder. He has appeared and recorded chamber music with Yo Yo Ma, Itzhak Perlman, and Wynton Marsalis and performs with the Mostly Mozart Festival Orchestra, Orpheus, and the St. Luke's Chamber Orchestra. Throughout his career, Taylor has appeared and recorded with major jazz and popular artists including Barbara Streisand, Miles Davis, Quincy Jones, Frank Sinatra, and Aretha Franklin. Mr. Taylor has won the National Academy of Recording Arts and Sciences Most Valuable Player Award for five consecutive years, the most it could be awarded and has been awarded the NARAS Most Valuable Player Virtuoso Award, an honor accorded no other bass trombonist. He has been a member of the bands of Gil Evans, Thad Jones-Mel Lewis, George Russell, Jaco Pastorius, Charles Mingus, Michelle Camillo, Bob Mintzer, Dave Matthews, and the Words Within Music Trio (Daniel Schnyder, David Taylor, Kenny Drew Jr.). Although he has performed on numerous GRAMMY award winning recordings, 1998 was special. In 1998 Taylor performed on four GRAMMY nominated CDs: The J.J. Johnson Big Band, Dave Grusin's West Side Story, the Joe Henderson Big Band, and the Randy Brecker Band. The latter two CDs were chosen for GRAMMYs.

David Taylor is also on the faculties of the Manhattan School of Music and Mannes College. He plays Edwards bass trombones exclusively.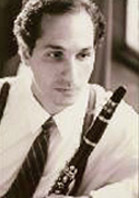 Salvatore Andolina [ top ]
In the worlds of classical music and jazz, cross-over versatility is rarely found in a single individual. But over the past decade or so the Buffalo Philharmonic has witnessed the keen achievements of one of Buffalo's native sons in the person of Salvatore Andolina, who is now the Orchestra's switch-hitter in his position as clarinetist, bass clarinetist and saxophonist.

Mr. Andolina's performance career was launched very early as a founding member of the renowned Amherst Saxophone Quartet with which he toured and recorded widely.

As a soloist and chamber player Sal has made many appearances at major concert venues across the United States and abroad, including spotlight performances from coast to coast at Carnegie Hall and Lincoln Center in New York and in Los Angeles with Johnny Carson on the Tonight Show.

In addition to appearing as a recent soloist with the BPO under JoAnn Falletta, Sal has been featured with the Rochester Philharmonic, the Grand Rapids Symphony, Niagara Symphony, the Fresno Philharmonic, the Ars Nova Chamber Orchestra under Marylouise Nanna and the Artpark Festival Orchestra. Sal's various CDs feature his artistry as both a clarinetist and saxophonist. Of special significance is the release by QRS Piano Rolls Company of his tribute to Benny Goodman on a solo CD titled "Like Benny to Me," now distributed Koch International. This recording was featured across the US and Canada on NPR, APR and the BBC networks.

Happily, good news travels fast in that Mr. Andolina is now accepting special engagements on the national scene featuring his performances of American Jazz. At the end of August he was the featured soloist at the prestigious Frick Historical Center concerts in Pittsburgh. Brilliant reviews followed the sold-out event, complete with encores and a standing ovation. Appearances at the Chautauqua Institute yielded duplicate results.

This past season Sal performed a 'Tribute to Benny Goodman' as featured artist with the Buffalo Philharmonic Orchestra and followed that up with The Sal Andolina Big Band appearing on the very successful Artpark Big Band Series. Sal is also in the planning stages for several new recordings to be released early next year. Look for these releases at salandolina.com.

Mr. Andolina is very pleased to be collaborating with Charles Haupt, a musician he has long admired, on this concert and looks forward to continuing their music making in the future.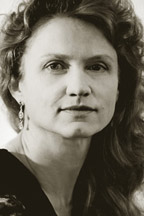 Claudia Hoca [

top ]
Claudia Hoca is a graduate of the Curtis Institute of Music in Philadelphia, where her teachers inGluded Eleanor Sokoloff and Mieczyslaw Horszowski. She has a Master's Degree from the State University of New York at Buffalo,where she studied with Leo Smit. A Fulbright grant enabled her to return to her native Austria,where she pursued advanced studies under Bruno Seidlhofer.

Ms. Hoca is the recipient of numerous awards, including top prizes in the Chopin Young Pianist Competition and the Washington International Bach Competition. While still a teenager, she appeared with the Boston Pops under Arthur Fiedler, the Philadelphia Orchestra, and the New York Philharmonic in a Young People's Concert, broadcast live on network television. She has played over 20 different concertos with the Buffalo Philharmonic under conductors Semyon Bychkov, Christopher Keene,Kazuyoshi Akiyama, Hermann Michael,Carlos Kalmar, and Maximiano Valdes, among others.She has appeared in recital in the United States and abroad and is much sought after as a chamber music collaborator.

Her recordings include a premier recording of the piano music of Leo Smit on the Spectrum label and two collaborations with Philharmonia Virtuosi of New York under the direction of Richard Kapp:Swiss composer Frank Martin's Petite Symphonie Concertante and Poulenc's Aubade, issued as an unedited live performance,both available on the Essay label.

She is often seen on the Kleinhans Stage as orchestral pianist with the BPO and has for the past five summers been the orchestral pianist of the Chautauqua Symphony Orchestra.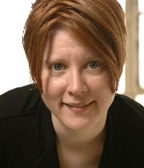 Tony Arnold [ top ]
Soprano Tony Arnold is internationally recognized for her interpretation of the contemporary repertoire. Spanning the styles from new vocalism to the new complexity, she has performed and recorded music of the preeminent composers of our time, including Berio, Crumb, Carter, Kurtág, Ligeti, Andriessen, Saariaho, and newer voices such as Adčs, Thomas and Zuidam. In 2001, Ms. Arnold became the only vocalist ever to be awarded first prize in the Gaudeamus International Interpreters Competition. Later that year, she claimed first prize in the Louise D. McMahon International Music Competition. She has received critical acclaim for her performances with MusicNOW, New York New Music Ensemble, eighth blackbird, Boston Modern Orchestra Project, George Crumb Ensemble, Fulcrum Point, Contempo, Fromm Players, Callisto Ensemble, Chicago Chamber Musicians, and June in Buffalo. In 2003 Ms. Arnold joined the faculty of the University at Buffalo, where she is a founding member of the new music ensemble HEARD. Her recordings include music of Luciano Berio on Naxos, and a 2006 Grammy Nominated performance of George Crumb's Ancient Voices of Children on Bridge Records. In 2004, Ms. Arnold was the featured guest artist at both the First International Festival of Contemporary Music in Morelia, Mexico, and a special memorial concert for Luciano Berio at the Parco della Musica in Rome. She sang at the 2004 Lucerne Festival, and participated in a ten-city tour with the composer George Crumb in celebration of his 75th birthday, culminating in a performance at the Library of Congress. In 2005 she appeared with Ensemble 21 at the Miller Theater in a rare performance of Ferneyhough's Etudes Transcendantales. In 2006 Ms. Arnold toured Armenia with violin virtuoso Movses Pogossian in Kurtág's monumental Kafka Fragments. [ top ]
Praised by critics of the Buffalo News with exclamations such as "top-notch", "ravishing", "joy to hear" performances, cellist Feng Hew has distinguished herself with "deep, woody and warm tone with rich resonance." Ms. Hew is the Associate Principle Cellist of the Buffalo Philharmonic Orchestra, appointed by Maestra JoAnn Falletta in 1999. A versatile musician also as soloist and chamber musician, she has performed concerts in Japan, Singapore, Hong Kong, Taiwan, Canada and the United State. As a seasoned soloist, Ms. Hew is featured frequently with Ars Nova Chamber Orchestra, Amherst Symphony Orchestra, Camerata di San't Antonio, Amherst Chamber Orchestra and the Buffalo Philharmonic Orchestra. Ms. Hew has made several WNY premieres including Graciela Buenos Aires by Jose Bragato, Concertino for Cello and String Orchestra by Lars-Erik Larson, and most recently a US premiere of Roberto Molinelli's Twin Legends. She will perform a world premiere of Whislter Waves, a Concerto for Cello and String Orchestra by Caroline Mallonee this spring. Her passion for chamber music keeps her actively involved with A Musical Feast, Buffalo Chamber Players, Chamber Music on Elmwood and the Philharmonic String Quartet.

Native of Kaohsiung, Taiwan, Ms. Hew began piano lessons at the age of four and cello lessons at the age of ten. By the age fifteen, she had garnered top prizes throughout the country from the National Taiwan Young Musician Competitions, and had already made her concerto debut with the Manhattan Symphony Orchestra after winning their concerto competition. The following year Ms. Hew received first prize from yet another concerto competition and performed as soloist with the National Taiwan Academy Symphony Orchestra. Shortly after, she accepted her first professional orchestral position with the Taipei Philharmonic Orchestra.Ms. Hew was invited to perform with the Asian Youth Orchestra in their Asia Tour in 1990 with conductor Yehudi Menuhin.

s the recipient of a prestigious full-scholarship grant from the Evergreen Music Foundation in Taiwan, Ms. Hew came to the United States for her Baccalaureate degree at the New England Conservatory of Music in Boston, MA. Upon graduation, she was awarded much coveted full scholarship from the New England Conservatory to further her study for a Master's degree. Ms. Hew had won the New England Conservatory concerto competitions, string quartet and piano trio competitions, and received Honors for Distinction in Cello Performance at both graduations. In 1997, Ms. Hew's Cello/Piano Duo was invited as one of only two cello/piano duos throughout the US to participate in the Irving Gilmore International Festival where they worked intensively with Yo-Yo Ma and Emmanuel Ax and performed several recitals in Michigan. In the New England area, Ms. Hew performed as featured soloist with NEC Symphony Orchestra and Harvard Symphony Orchestra, Associate Principal Cellist of Cape Cod Chamber Orchestra, member of Vermont Symphony Orchestra and New Hampshire Symphony Orchestra. She has performed with Maestros such as Seiji Ozawa, Michael Tilson Thomas and Simon Rattle. Ms. Hew's principle teachers include Laurence Lesser, Colin Carr, and David Wells, and she has worked with Paul Tortelier, Anner Bylsma, David Soyer, and Carter Brey.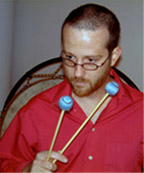 Tom Kolor

[ top ]
Assistant Professor
MM Juilliard School

Percussionist Tom Kolor specializes in 20th and 21st century music, and is one of New York City's most in demand chamber musicians. Currently an Assistant Professor at University at Buffalo, Mr. Kolor directs the Percussion Ensemble, teaches private lessons, and is Principal Percussionist with UB's Slee Sinfonietta.

Professor Kolor appears throughout the United States and Europe as a member of Talujon Percussion, Manhattan Sinfonietta, Ensemble 21, Sospeso, American Modern Ensemble and Newband. In addition, he is a frequent guest of such ensembles as the Chamber Music Society of Lincoln Center, New York New Music Ensemble, Speculum Musicae, Continuum, Da Capo Chamber Players, Group for Contemporary Music, and Orpheus Chamber Orchestra.

As a soloist, Professor Kolor has given dozens of premieres by such composers as Milton Babbitt, John Zorn, Wayne Peterson, Tania Leon, and Jerome Kitzke. He has recorded for Bridge, New World, Albany, Capstone, Innova, Wergo, Naxos, CRI, Koch, Tzadik, North/South Consonance, and Deutsche Grammophon labels.


Paolo Cavallone [ top ]
Paolo Cavallone's (b. 1975, Sulmona, Italy) has been described among the new generations of composers as "one of the most interesting talents in the contemporary music panorama" (Musicalnews, Biblio-net). Mr. Cavallone studied with Mauro Cardi, Guido Baggiani and Alessandro Sbordoni. He earned his degrees in composition, piano, instrumentation for band and in literature at the State Conservatory Alfredo Casella in L'Aquila, Italy, and the State University of L'Aquila. He also studied piano with Giovanni Carmassi at the Accademia Chigiana in Siena and composition with Azio Corghi and at the National Academy of Santa Cecilia in Rome. After having completed his advanced studies in Italy, Mr. Cavallone came to Buffalo, where he is currently living, in order to work with David Felder. His compositions are regularly broadcast internationally by RAI (the Italian Broadcasting Corporation), Radio Capodistria, Radio Onda Blu, and Radio Cittŕ Futura. His music, which Musibox magazine has called " fascinating and complex," has drawn the attention of critics in America and abroad.. In his native Italy, his pieces have been performed in Rome at the Auditorium and the festival Domani Musica (together with Guido Baggiani, Franco Piersanti and Ennio Morricone), in Siena at the Accademia Chigiana in Bari at the "Meeting with Contemporary Music," festival, and in Aquila at the Societa' Barattelli. In 2007, the Buffalo Philharmonic Orchestra selected his symphony "Porte" for its "Composer Forum" and, in June, his work was featured in Buffalo's Dilijan music series. As a pianist, Mr. Cavallone has performed both as a soloist and as part of chamber ensembles playing both classical and contemporary repertoires, as well as his own works. He also has played in modern and contemporary improvisation ensembles. His music has been released on CDs by Domani Musica and Suono Sonda labels. Since 2005, Paolo Cavollne has been a member of Nuova Consonanza.
[ top ]
Jean Kopperud is one of the most versatile and innovative clarinetists appearing before the public today, known for her virtuoso performances both in the concert hall and in music theater.  A graduate of the Juilliard School and former pupil of Nadia Boulanger, Ms. Kopperud has toured internationally as a concert soloist and chamber musician.  National acclaim for her performances of Karlheinz Stockhausen's HARLEKIN, a tour-de-force for dancing clarinetist, resulted in her Avery Fisher Hall debut, presented by the New York Philharmonic.  Ms. Kopperud is currently a member of the New York New Music Ensemble, the Chamber Players of the League of Composers/I.S.C.M., Washington Square Chamber players, Ensemble 21 and the Omega Ensemble.  She is on the faculty of SUNY Buffalo and the Juilliard School. At Juilliard she teaches a class called "On the Edge" as well as private and class clarinet in the Music Advancement Program.   "On the Edge" is a course to practice performing that is also done in workshop around the country.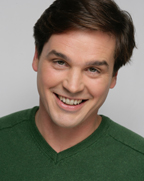 Paul Todaro [ top ]
theskiffleminstrels
Paul Todaro is a professional actor and amateur musician. He has directed and acted on all of Buffalo's stages  including several concerts with the BPO. He spent ten years in New York with Independent Theatre Company which was voted Best Off Off Broadway Theatre in 1993. He is a member of Actor's Equity, The Lincoln Center Director's Lab and a founding member and bass player of the award winning, bar hoping group The Skiffle Minstrels. Paul teaches acting privately. call 882 2307.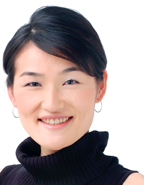 Rin Ozaki

[ top ]
www.rinozaki.com
Rin Ozaki is a marimbist and percussionist from Tokyo, Japan.

She studied with Keiko Abe and Gordon Stout. She holds degrees in percussion performance from Toho School of music and a master's degree from the State University of New York at Buffalo.

Rin has performed a variety of solo recitals and international concerts. She was a finalist at the Second World Marimba Competition. She won the audition for a solo recital concert series in Yokosuka, Japan. She was invited to perform on the live radio broadcast of the final concert at the World Marimba Competition in Stuttgart, Germany. She also performed in the final concert of "Acadamie Musicale de Villcroze" in France.

Rin has presented marimba master classes at Universities throughout the United States and at the PAS Western New York Day of Percussion.


[ top ]
Currently Associate Professor of the State University of New York at Buffalo, Jon Nelson maintains an active career as performer, producer and collaborator. He is a founding member of the Meridian Arts Ensemble, and has collaborated with numerous contemporary composers, most notably Milton Babbitt and Frank Zappa.

Jon has been instrumental in the commissioning of over sixty new works for trumpet in various ensembles, and his arrangements have been performed and recorded by the Cologne Stadt Ballet, Atlantic Brass Quintet, Lake George Opera, Ethos Percussion Quartet, Lark Quartet, and Dweezil Zappa. He is the founder of The Consortium for New Trumpet Music, which seeks to create new music for trumpet in a variety of contexts, and is the Managing Director of Blue Bison Music, which publishes new music for brass instruments.

With the Meridian Arts Ensemble, he records exclusively for Channel Classics and 8bells Records. As an independent artist, he has produced two solo recordings for 8bells Records; Gran Calavera Electrica and Metalofonico!. He is currently working on a series of cd recordings for 8bells that feature contemporary and newly commissioned works for brass. He can be heard on over 30 other recordings with various ensembles.

He served as Principal Trumpet for the Festival Orchestra d'Aix en Provence in France under the direction of Pierre Boulez (2000), and the Mineria Festival Orchestra in Mexico City (1998). Jon has also performed with the Baltimore Symphony, Buffalo Philharmonic, and the Metropolitan Opera Orchestra.

Active in the field of education, he regularly teaches at numerous festivals including Tanglewoood, Meridian Seminar @ ECU, Bar Harbor Brass Week, Wellesley Composers Conference, Atlantic Brass Seminar, June in Buffalo, and the Festival Centro Historico in Mexico City. He has presented master classes in the US, Holland, Germany, Belgium, Taiwan, Mexico, Colombia, Cuba, and Costa Rica, and has served on the faculties at Princeton University, Boston University, Hartt College, and Middlebury College.

Jon Nelson holds a B.M. from The Juilliard School where he studied with Mark Gould.


[ top ]
www.christianbaldini.info
The dynamic work of Christian Baldini, conductor and composer, has taken him around the world, to guest conduct the Buenos Aires Philharmonic (Argentina), the San Francisco Contemporary Music Players, opera for the Aldeburgh Festival (United Kingdom), and as a featured composer at the Acanthes Festival in France. After conducting the Sao Paulo Symphony Orchestra (OSESP, Brazil), critic Arthur Nestrovski from the Folha de Sao Paulo praised this "charismatic young conductor" who "conducted by heart Brahms's First Symphony, lavishing his musicality and leaving sighs all over the hall and the rows of the orchestra...."

Baldini's music has been performed throughout Europe, South America, North America and Asia by orchestras and ensembles including the Orchestre National de Lorraine (France), Southbank Sinfonia (London), New York New Music Ensemble, Memphis Symphony Orchestra, Daegu Chamber Orchestra (South Korea), Chronophonie Ensemble (Freiburg), International Ensemble Modern Academy (Frankfurt). His music appears on CD on the Pretal Label, and has been broadcast on SWR (German Radio) as well as in the National Classical Music Radio of Argentina. He has also conducted contemporary Italian music for the RAI Trade label.

Baldini's work has received awards in several competitions including the top prize at the Seoul International Competition for Composers (South Korea, 2005), the Tribune of Music (UNESCO, 2005), the Ossia International Competition (Rochester, NY, 2008), the Daegu Chamber Orchestra International Competition (South Korea, 2008), and the Sao Paulo Orchestra International Conducting Competition (Brazil, 2006). He has been an assistant conductor with the Britten-Pears Orchestra (England), has conducted the BBC Scottish Symphony Orchestra, Royal National Scottish Orchestra and served as a cover conductor with the National Symphony Orchestra (Washington, DC). After conducting the Slee Sinfonietta and the Symphony Orchestra at the State University of New York in Buffalo, Baldini is now on the Faculty at the University of California, Davis, where he serves as the Music Director of the UC Davis Symphony Orchestra.

Forthcoming engagements include the Israel Contemporary Players (Jerusalem), the Plural Ensemble (Spain) and the BBC Symphony Orchestra in London.


Jonathan Lombardo [ top ]
Jonathan Lombardo is Principal Trombone of the Buffalo Philharmonic Orchestra, a position he has held since 2004. He has played with the Syracuse, San Antonio, Albany, and Aspen Chamber Symphonies as well as The Spoleto Festival Orchestra.

Jonathan began playing trombone at age eleven in his hometown of San Antonio, Texas and continued his studies at the Interlochen Arts Academy under Thomas Riccobono from 1996-1999. He earned a Bachelor of Music degree from The Juilliard School in 2003 where he studied with Joseph Alessi and Per Brevig.

As a soloist, Jonathan has performed recitals in Europe and throughout the United States. His performance of Nina Rota's Concerto for Trombone with the Juilliard Orchestra was featured several times on NPR's Performance Today. In 2005, he was a guest soloist with the University of New Mexico Wind Ensemble while participating in the prestige's Alessi Seminar.

Jonathan has given master classes in the United States, South America and Europe. Notably he was on faculty at the 2007 International de Campos do

Jordăo Musica Festival in Brazil. At home in Buffalo he is faculty at The University at Buffalo and maintains a private studio.


Edmond Gnekow [ top ]
Edmond Gnekow joined the Buffalo Philharmonic Orchestra in the summer of 2000. He was born and raised in northern California, earned a B.A. in English at the University of California at Berkeley, then moved east to earn a M.M. at Indiana University.

Other orchestras in which he has played include the Pittsburgh Symphony, Kansas City Symphony, and American Bach Soloists. Mr. Gnekow is grateful to live in a city with as much cultural heritage and possibility as Buffalo.


[ top ]
Martha Malkiewicz joined the bassoon section of the Buffalo Philharmonic in 1984 and the faculty of Canisius College in 1987. She received her degrees from Indiana University (Bachelor of Music Performance) and the Eastman School of Music (Master of Performance and Master of Music Education) and did advanced study at the Hochschule fur Musik in Vienna, Austria where she received a Young Artists Award. Ms. Malkiewicz has been a member of the Evansville Symphony Orchestra and the Charleston Symphony Orchestra and has performed in Italy, Austria, Germany and Hawaii. Ms. Malkiewicz has given solos recitals and performed chamber music through out Western New York State as a member of Young Audiences, Amherst Chamber Winds and Ars Nova. She has taught at the College of Charleston, Geneseo State College and Villa Maria College. As a member of the BPO, Martha has worked extensively with the Education department, designing performances and speaking about the BPO to schools and community organizations. Martha designed and currently teaches the course, Canisius and the BPO Experience, which brings BPO musicians and staff members to the college and takes Canisius students to Kleinhans Music Hall for concerts and backstage viewing of the BPO. Ms. Malkiewicz is also the founder of Informally-Formal, a chamber music series that brings BPO musicians to the Montante Cultural Center for music, light refreshments, and conversations with the audience.
[ top ]
Cellist-composer Jonathan Golove is a dedicated performer of both new and traditional works, as well as of improvised music. He has performed throughout the United States and Europe at venues including Weill Recital Hall (Carnegie Hall), Zipper Concert Hall in Los Angeles, and London's Southbank Centre. He has been featured as cello soloist with the Buffalo Philharmonic Orchestra, Slee Sinfonietta, and New York Virtuoso Singers. One of only a handful of performers on the theremin cello, Golove has appeared as soloist with the Asko/Schoenberg Ensemble, London Sinfonietta, and International Contemporary Ensemble, and he is a member of the 1. Deutsche Stromorchester. He is also active as an electric cellist, particularly in the field of creative improvised music. He has performed and recorded with jazz groups including the Michael Vlatkovich Tryyo and Quartet, Ubudis Quartet, and Vinny Golia's Large Ensemble, and made appearances at the Vancouver Jazz Festival, the Eddie Moore Jazz Festival (Oakland), and the International Meeting of Jazz and New Music (Monterrey, Mexico). He has recorded for the Albany, Centaur, Albuzerque, pfMENTUM, and Nine Winds labels, and his performances and interviews have been heard in broadcasts by numerous National Public Radio stations, as well as on Radio Nuevo León, West German Radio, CBC, and Radio France. His summer appearances include numerous festivals devoted to new works, including the Holland Festival (Amsterdam), Festival d'Automne (Paris), Lincoln Center Festival, June in Buffalo, and the Festival del Centro Histórico (Mexico City). Mr. Golove's original compositions have been performed at venues including the Kennedy Center, Washington D.C., Venice Biennale, Festival of Aix-en-Provence, Lincoln Center Chamber Music Society II, and the Kitchen, and he has received awards and grants for his work from organizations including ASCAP, the Yvar Mikhashoff Trust for New Music, and Meet the Composer. He is an Associate Professor in UB's Department of Music.
[ top ]
Johnny Reinhard (1956), bassoonist, recorder player, vocalist, composer, director and teacher, is director of the American Festival of Microtonal Music which he initiated in 1981 in New York. His compositions are performed worldwide, and he has produced numerous exclusively microtonal concerts. All his works, like Dune, Raven, Atlantis, Cosmic Rays, Neo, Adam and Eve and Middle Earth (for symphony orchestra) are "polymicrotonal".

He was co-editor of a microtonal issue of "Ear Magazine" in 1981-1982. He has published "PITCH for the International Microtonalist" himself.

In June 1996 Johnny Reinhard conducted his realisation of Charles Ives' Universe Symphony. In the same year he conducted Ensemble 2e2m in a performance of Reinhard's elaboration of Varčse's Graphs and Time in the Centre Pompidou in Paris. Other compositions where microtonality let to a special performance were Terry Riley's In C (in just intonation), Harry Partch's December 1942, Percy Grainger's Free Music and La Monte Young's Vision. In 1997 Reinhard was guest conductor of the first International Theremin Festival in Portland, Maine. The last eight years Johnny Reinhard presents a popular radio programme at WCKR Radio New York entitled Microtonal Bach. Furthermore he is employed as teacher of composition and theory at the University of Long Island and teacher of bassoon at the University of New York. The American Festival of Microtonal Music organises yearly microtonal festivals under the names Microthon and Microfest. In 2002 it has produced a series of 20 microtonal CDs.


Nils Vigeland [ top ]
Nils Vigeland was born in Buffalo in 1950. He made his professional debut as a pianist in 1969 with the Buffalo Philharmonic Orchestra, Lukas Foss, con-ductor. He studied composition with Mr. Foss and David Del Tredici at Harvard College. He earned his Ph. D at the State University at Buffalo where he studied with Morton Feldman.

For eight years (1980-89) Mr. Vigeland directed The Bowery Ensemble which gave an annual series of concerts in Cooper Union, NYC. The group gave the first performance of over thiry works by composers including John Cage, Jo Kondo, Pauline Oliveros and Leo Smit. Mr. Vigeland has recorded with Eberhard Blum and Jan Williams a 10 CD series for HAT ART of the complete extended duration works for flute, percussion and piano by Morton Feldman. His own work appears on CDs from Mode and Lovely Music. His choral music is published by Boosey and Hawkes.

In 1992 his opera, False Love/True Love , based on two scenes from Char-lotte Bronte's Jane Eyre , was commissioned and performed by The English National Opera at the Alemida Theatre, London. In 1989 he was a recipient of The Rose Prize which included a performance of his orchestral work, My Father's Song , by the Brooklyn Philharmonic, Michael Morgan , conductor.

Mr. Vigeland has been the recipient of grants and awards from The Ford Foundation, The NEA Consortium Commission Program, Harvard College, The MacDowell Colony and The Mary Flagler Cary Trust. He has taught at Manhattan School of Music since 1984 where he is presently Chair of the Composition Department.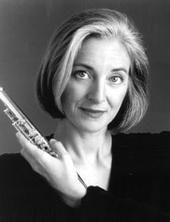 Carol Wincenc

[ top ]
Carol Wincenc was First Prize Winner of the Walter W. Naumburg Solo Flute Competition. She has appeared as a soloist with such ensembles as the Chicago, Saint Louis, Atlanta and London Symphonies; the BBC and Buffalo Philharmonics, the Saint Paul and Stuttgart Chamber Orchestras, and the New York Woodwind Quintet. She has performed in the Mostly Mozart Festival and the music festivals in Aldeburgh, Budapest, Frankfurt, Santa Fe, Spoleto and Marlboro. Ms. Wincenc has premiered numerous works written for her by many of today's most prominent composers, including Christopher Rouse, Henryk Gorecki, Lukas Foss, Peter Schickele, Joan Tower and Tobias Picker. She has recorded for Nonesuch, London/Decca, Deutsche Grammophon, and Telarc. As a result of her fascination with the flute family, Ms. Wincenc created and directed a series of International Flute Festivals in St. Paul, Minn, feturing such diverse artists as Jean-Pierre Rampal, Herbie Mann and the American Indian flutist R. Carlos Nakai. Carl Fischer is publishing a series of Carol Wincenc Signature Editions, featuring her favorite flute repertoire.

One of today's international stars of the flute, Carol Wincenc has appeared as soloist with major orchestras around the world and has premiered works written for her by many of today's most prominent composers. Equally in demand abroad, Ms. Wincenc has given acclaimed performances with the London Symphony, the English and Stuttgart chamber orchestras, and the international music festivals in Aldeburgh, Budapest, Tivoli and Frankfurt. Carol Wincenc was First Prize Winner of the Walter W. Naumberg Solo Flute Competition and is presently a professor of flute at the Julliard School of Music in New York. Carl Fischer has published the first in a series of Carol Wincenc Signature Editions which will feature her favorite flute repertoire.


Jerry Kirkbride [ top ]
Jerry Kirkbride, professor of music for clarinet, is the clarinetist of the world famous Dorian Wind Quintet (www.dorianwindquintet.org). He has toured the United States, Canada, Mexico, and Europe extensively as well as India, Pakistan, and the Middle East. Before joining the Dorian Wind Quintet in 1970, Kirkbride was principal clarinetist with the Metropolitan Opera National Company and was a Creative Associate at the Center of the Creative and Performing Arts at the State University of New York at Buffalo. Kirkbride has performed in numerous chamber music concerts and free-lanced extensively in New York City for nearly twenty years. He was principal clarinetist of the Brooklyn Philharmonic for six years. After graduating from the University of Southern California, where he studied with Mitchell Lurie, he was awarded a Fulbright Grant to continue his studies in Rome, Italy where he worked with such artists as Nadia Boulanger, Efrem Kurtz, and Franco Ferrera. Kirkbride wrote the clarinet section of Teaching Woodwinds, a text for college wind instrumental techniques classes and has several editions and arrangements published by International Music Publishing Company. He has recorded for Vox, Columbia, CRI, Deutsche Grammophon, New World and Summit Records. Kirkbride joined the faculty at the University of Arizona in 1987 and is a member of the Arizona Wind Quintet. He was principal clarinetist with the Arizona Opera from 1989-1998 and performs each year at the Arizona Musicfest in Carefree, AZ.


Amanda DeBoer [ top ]
Since moving to Buffalo in 2007 to pursue a masters in voice, Amanda DeBoer , soprano, has maintained an active performance schedule in Chicago, Buffalo and Omaha performing with Dal Niente, Opera Cabal, ai Ensemble, BABEL: An Experimental Voice Ensemble, and Abraxas Contemporary Ensenble. She recently attended the SoundSCAPE Festival for Composition and Performance in Pavia, Italy where she received the award for "Outstanding Performer" and premiered works by several composers. This year she will be revisiting the role of "Ursula's Immortal Soul" in Nicholas DeMaison's Ursularia in December, as well as premiering works by several Buffalo area composers.


Amy Williams

[ top ]
AMY WILLIAMS has appeared as a pianist and composer at renowned contemporary music venues in the United States, Australia and Europe, including Ars Musica (Belgium), Musikhšst (Denmark), Gaudeamus Musik Week (Netherlands), Festival Aspekte (Austria), Dresden New Music Days (Germany), Festival Musica Nova (Brazil), Music Gallery (Canada), Tanglewood, and LA County Museum. Her compositions have been performed by leading contemporary music soloists and ensembles, including the Buffalo Philharmonic Orchestra, Pro Arte Chamber Orchestra, Empyrean Ensemble, International Contemporary Ensemble, California E.A.R. Unit, Monarch Brass, Ensemble Aleph, H2 Saxophone Quartet, Due East, Wet Ink Ensemble, Dinosaur Annex, Bent Frequency, Duo Diorama, Ensemble Dal Niente, pianists Ursula Oppens and Amy Briggs, and bassist Robert Black. Her works appear on CDs on the Navona, New Ariel and VDM labels. As a pianist, Ms. Williams has recorded for Mode and Hat-Art. She has received awards from ASCAP, the Thayer Award for the Arts, the American- Scandinavian Foundation, the 2002 Wayne Peterson Prize in Music Composition, the Howard Foundation and a 2009 Fromm Music Foundation Commission. She has held residencies at the Akademie Schloss Solitude (Germany) and Bellagio Center (Italy). She holds a Ph.D. in composition from the State University of New York at Buffalo, where she also received a Master's degree in piano performance. Her principal teachers were composers David Felder, Charles Wuorinen and Nils Vigeland and pianists Yvar Mikhashoff and Alan Feinberg. Before her current position as Assistant Professor of Composition/Theory at the University of Pittsburgh, she taught at Northwestern University and Bennington College.
[ top ]
Jan Williams is a percussion soloist and conductor. Composers who have written works especially for him include Lukas Foss, John Cage, Elliott Carter, Joel Chadabe, Morton Feldman, Orlando Garcia, Gustavo Matamoros, Luis de Pablo, Frederic Rzewski, Nils Vigeland, and Iannis

Xenakis. He has toured extensively as a percussion soloist and conductor throughout the United States, Europe, New Zealand and Australia and has recorded for Columbia, Vox/Turnabout, Desto, Lovely Music, Spectrum, Wergo, DGG, Orion, Hat-Art, OO, New World, Deep Listening, EMF and Mode Records. He served as Co-Artistic Director of the North American New Music Festival, with Yvar Mikhashoff, from 1985-1991. He is Professor emeritus at the University at Buffalo where he directed the percussion program for 30 years and served as Chair of the Music Department from 1980-84. He is Trustee of the Yvar Mikhashoff Trust for New Music.

Jan Williams, percussion soloist and conductor, has toured extensively throughout the United States, Europe, New Zealand and Australia. He has recorded for Columbia, Vox/Turnabout, Desto, Lovely Music, Spectrum, Wergo, DGG, Orion, Hat-Art, OO, New World, Deep Listening, EMF Media, and Mode Records. Composers who have written works especially for him include Lukas Foss, John Cage, Elliott Carter, Joel Chadabe, Morton Feldman, Orlando Garcia, Gustavo Matamoros, Luis de Pablo, Frederic Rzewski, Nils Vigeland, and Iannis Xenakis. With Yvar Mikhashoff, he was Co-Artistic Director of the North American New Music Festival from 1985-1991. He is Professor emeritus at the University at Buffalo where he and John Bergamo founded the Unversity at Buffalo Percussion Ensemble in 1964. He was the ensemble's director until his retirement in 1996. He is Trustee of the Yvar Mikhashoff Trust for New Music.

Morton Feldman's compositions "Why Patterns?", "Crippled Symmetry", and "For Philip Guston" were written for the "Feldman Soloists": Jan Williams, Nils Vigeland and Eberhard Blum. This group performed the premieres of these works and presented Feldman's music widely in Europe, the Middle East and the United States.


Christina Walsh [ top ]
Christina Walsh received her BFA in Dance Performance and Choreography from SUNY Brockport. She has performed at the American College Dance Festival Gala at the Kennedy Center, the 2007 Best of Brockport concert, with the Rochester based company BIODANCE, Missy Pfohl Smith, artistic director, and in the Vision of Sound concert series in venues throughout upstate NY. She relocated to Buffalo earlier this month and is currently dancing with Buffalo Contemporary Dance and Melanie Aceto Contemporary Dance.
[ top ]
www.melanieacetocontemporarydance.com
Melanie Aceto is a modern dancer, choreographer and educator. Her work has been performed in Toronto, New York ( Cool NY and D.U.M.B.O Dance Festivals, American Dance Guild, Uptown Performance Series, Underexposed Festival and Hatch), Washington D.C., New Jersey, Florida, North Carolina and Ohio. Melanie has worked extensively with contemporary composer Mark Olivieri on projects including the ImageMovementSound Festival , the Heidelberg New Music Festival and co-directing the Vision of Sound Concert of Live Music and Dance . She earned her Master of Fine Arts degree in dance from New York University's Tisch School of the Arts and is currently Assistant Professor at the University at Buffalo.


Charles Z Bornstein [ top ]
was born in Buffalo and worked with Lukas Foss as a youth in Composition, Piano, Orchestration and Conducting. Bornstein graduated from the Juilliard School, Salzburg Mozarteum and Vienna Masterclass with Hans Swarowsky. He has been named of Music Director/Conductor of the Newfoundland Symphony Orchestra (CA), London Mozart Festival (CA) the Rockford Symphony Orchestra (Il) and the Woodstock Summer Festival. Mr Bornstein worked exclussively with Iannis Xenakis and recorded his music on MODE, VANDENBURG, ASPHODEL and COL LEGNO labels. He was named LEONARD BERNSTEIN SCHOLAR IN RESIDENCE of the NEW YORK PHILHARMONIC from 2005-2008 seasons. His work in analyzing the thought processes in Leonard Bernstein's interpretations has cultivated a new educational audience at the New York Philharmonic. He is presently compiling these lectures as a book under the title of BERNSTEIN CONCEPT. Bornstein played piano concertos with the Buffalo Philharmonic under Lukas Foss and Melvin Strauss. His works were performed at the Albright-Knox Evenings for New Music as well. For their first Martin Luther King Concert, the BPO engaged Bornstein to conduct his SYMPHONY JFK/MLK JR IN MEMORIAM for national broadcast. The symphony was premiered in Carnegie Hall with the ASO/Commissiona and later Bornstein conducted it for PBS with the Rockford Illinois Symphony.


Mario Lavista, composer [ top ]
Born in Mexico City in 1943, Mario Lavista began piano studies as a child and enrolled at the Conservatorio Nacional de Musica in 1963 under the guidance of Carlos Chavez, Hector Quintanar and Rodolfo Halffter. He studied at the Schola Cantorum in Paris(1967-1969), where he also attended courses given by Henri Pousseur, Nadia Boulanger, Christoph Caskel and Karlheinz Stockhausen.

Upon his return to Mexico he founded Quanta, a collective improvisation group. In 1972, he worked at the electronic music studio of radio and television in Tokyo, Japan. He has worked on interdisciplinary projects, such as Jaula (1976), and in the creation of multiple scores for films produced by Nicolas Echevarria. Around 1980, he explored extended techniques of traditional instruments in collaboration with performers Marielena Arizpe (flutist), Bertram Turetzky (bassist), Leonora Saavedra (oboist) and El Cuarteto Latinoamericano (strings), in the compositions Triptico, Dusk, Marsias and Reflejos de la noche, respectively. In 1982, he founded Pauta, one of the most important music journals in Latin America, and has served as its chief editor ever since. As a writer, he has produced many essays, most of which are collected in Textos en torno a la musica.

In 1987 he received a Guggenheim Fellowship for his first and only opera Aura, based on the short story by Carlos Fuentes. He has received many awards, such as the Premio Nacional de Ciencias y Artes and the Medalla Mozart. Since 1998, Lavista has been a member of the prestigious EI Colegio Nacional. He has taught in Mexico and abroad, especially in North American institutions, including the University of Chicago, Cornell University, the University of California San Diego, Indiana University and McGill University. His works are frequently performed by some of the most distinguished chamber and orchestral groups. For recordings of his music, he has received the award for best classical album of the year from the journal Viceversa (1998, for Missa Brevis ad Consolationis Dominam Nostram) and a Grammy nomination (1999, shared with the other composers featured on the CRI recording Voces Americanas
[ top ]
Valerie Heywood is Principal Violist of the Buffalo Philharmonic Orchestra.  She has appeared as soloist on numerous occasions, most recently in Mozart's Sinfonie concertante.  Prior to coming to Buffalo she performed with the New York City based  Orpheus Chamber Orchestra, Barge Music, the Virtuosi Ensemble, and the Con Brio Ensemble. During the summer she performs with  the Grand Teton Music Festival in Jackson Hole, Wyoming.  She has been professor of viola and chamber music at the University of Toledo (Ohio), and as viola faculty at SUNY at Buffalo and Fredonia.  She received her Bachelor of Music degree from the University of Michigan and her Masters degree from the Juilliard School.
[ top ]
Pianist Alan Feinberg has forged a remarkable career based on musical exploration. His intelligence, integrity, and affinity for an unusually wide range of repertoire place him among those few artists who are able to build a bridge between the past and the present. From Bach to Babbitt, Feinbergs creative approach to programming has placed him in an unusual position. With over 300 premieres to his credit (by such composers as John Adams, Charles Ives, Steve Reich, John Harbison, Milton Babbitt and Charles Wuorinen) he is well known for recitals that pair old and new music and put a fresh and provocative perspective on both. Alan Feinberg has toured several times with the Cleveland Orchestra and Christoph von Dohnanyi, first performing Shulamit Rans Concert Piece (including an appearance in Carnegie Hall). He has also performed the Brahms Second Piano Concerto on tour with the Cleveland Orchestra, and his most recent collaboration with it featured the world premiere of Charles Ives Emerson Concerto, and subsequent performances in London, Paris, and Amsterdam were hailed as a major achievement by Ives scholars. Mr. Feinberg is often on the cutting edge. He was featured on opening night of the San Francisco Symphonys Maverick Festival, at the New Horizons Festival of the New York Philharmonic, the 10th anniversary concert of the American Composers Orchestra, the 92nd Street Ys Berio Sequenza Marathon, the first performance of Act 1 of John Adams Nixon in China for the Guggenheims Works in Progress Series, and the Carnegie Hall birthday celebration of George Gershwin with Dick Hyman. He has performed as soloist with the Chicago Symphony, the New York Philharmonic, the London Philharmonic, the Montreal Symphony, the Los Angeles Philharmonic, the BBC Scottish, the American Symphony, the St. Louis Symphony, the Baltimore Symphony, the New World Symphony, and many others. Alan Feinberg has recorded four solo CDs for Decca that survey American music: The American Romantic, The American Virtuoso, The American Innovator, and Fascinating Rhythm:American Syncopation. In addition he has recorded piano concerti by: Mel Powell, Milton Babbitt, Andrew Imbrie, Kamran Ince, Morton Feldman, Paul Bowles, Amy Beach, Charles Ives, Don Gilles, and Robert Helps. He recently received his fourth Grammy nomination for Best Instrumentalist with Orchestra for the recording of the Amy Beach Piano Concerto with the Nashville Symphony.

Mr. Feinberg also enjoys an outstanding reputation abroad. He has appeared at the festivals of Edinburgh, Bath, Cambridge, Huddersfield, Geneva, Budapest, Berlin, Brescia and Bergamo, and he was the first pianist to be invited by the Union of Soviet Compsers to represent American contemporary music with performances in Moscow and Leningrad. This year Mr. Feinberg was featured in a series of programs by the Lincoln Center Chamber Music Society. He has participated in collaborations with Robert Wilson and with a dance company as part of the Guggenheim Museum's Works and Process series, and recently recorded Charles Wuorinen's Violin Sonata with violinist Mark Steinberg after a 70th Birthday concert for Mr. Wuorinen at the Library of Congress.
[ top ]
J.T. Rinker writes acoustic music, electronic music and live interactive music and works in other media such as film, video, and robotic arts. His work is informed by and often combines elements from these various fields.  J.T. is currently Managing Director of the Center for 21st Century Music at the Unversity at Buffalo and teaches a course in Interactive Computer Art as an adjunct instructor in the Department of Visual Studies.
[ top ]
www.irishclassicaltheatre.com
An honors graduate in Arts from University College, Dublin, and in Education from Trinity College, Dublin, O'Neill trained as an actor at the prestigious Abbey Theatre School of Acting, attached to Ireland's National Theatre. Subsequently he trained as a mime artist with the legendary Marcel Marceau for several years in Paris, and graduated from Marceau's International Mime School in 1980.

On returning to Ireland, he won the Harvey's National Theatre Award for "Best Newcomer in Irish Theatre". He then founded the Oscar Mime Company, Ireland's first professional mime company, and became its Artistic Director. He also founded and was director of the Dublin Theatre School, a conservatory for professional actors. Having taught mime at virtually every theatrical institution in Ireland, Vincent was appointed to the Drama Faculty at Trinity College.

In 1985, he was invited to become a member of the internationally celebrated Abbey Theatre Company, both as actor and director. With the Abbey Company, he toured to the Edinburgh Theatre Festival, ( winner of the Fringe First Award ), London, Paris, Philadelphia, New York , Hong Kong, the Bolshoi Theatre in Leningrad and to the Moscow Arts Theatre.

He was invited by both the President and Prime Minister of Ireland to give command performances of his internationally acclaimed one-man-show, "Joyicity".

He has toured this show extensively throughout Europe and the USA, with two runs off-Broadway, and also to Toronto, Sydney and Tokyo.

Since relocating to Western New York in 1989, he has worked both as actor and director in all of the region's major theatres, and has won numerous awards for acting, directing and playwriting.

He has been a member of the faculty of the State University of New York at Buffalo since 1990, where he is former Chair of the Department of Theatre and Dance.

O'Neill was awarded the YMCA's Toast of Buffalo Award for his contribution to the cultural life of Western New York.

A co-founder of the Irish Classical Theatre Company, winner of the Arts Council's Outstanding Artistic Organization Award, he has also been its Artistic Director since 1990.


Elliot Caplan [ top ]
Filmmaker, producer/director Elliot Caplan is currently Professor of Film, Department of Media Study, and Director, Center for the Moving Image, University at Buffalo, The State University of New York. His work in documentary, art filmmaking, and performance with choreographer Merce Cunningham, composer John Cage and video artist Nam June Paik is internationally recognized. His films and videos are in museum and film collections throughout the world. Caplan also designs and directs theatrical presentations incorporating media as décor. Caplan received an Emmy Award for "Outstanding Cultural and Historical Programming" for his work on the PBS Network. He is the recipient of numerous grants and awards. In 1996, Caplan founded Picture Start Films to facilitate his artistic work.

The Washington Post said of "Cage/Cunningham", "One of the things which makes the film remarkable is that although the ingredients are familiar with other documentaries…the tapestry that Caplan has woven from these threads is not like any you've seen before".

On "CRWDSPCR", London's TIME OUT reads, "Attention: genius at work. Elliot Caplan's lovingly observed film is one of the most entertaining and revealing entries in the short 'Summer Dance' season."


Charles Wetherbee [ top ]
Violinist Charles Wetherbee has performed as a soloist and chamber musician throughout the world, including Europe, Asia, the Middle East, Canada, Mexico, and the United States. He has appeared at the Aspen Music Festival, the Garth Newell Center, the Hidden Valley Festival, the Roycroft Chamber Festival, the Nouvelle Academie International d'Été (Nice, France), the Olympic Music Festival, the MidAmerica Music Festival, and at Strings in the Mountains in Steamboat, CO. Charles has been the Concertmaster of the Columbus Symphony Orchestra following his appointment in 1994. He has appeared numerous times as soloist with the orchestra, earning high praise both from audiences and critics. After a recent performance with the Columbus Symphony, The Columbus Dispatch wrote "...a first rate showman...his doublestops, harmonics, and beautiful sound kept the audience spellbound".

A native of Buffalo, New York, Charles gave his first performances at age six. He made his debut with the Buffalo Philharmonic Orchestra under Symon Bychkov, and since then has performed with the National Symphony under Mstislav Rostropovitch, as well as the Alexandria Symphony, the Concerto Soloists of Philadelphia, the Minnesota Synphonia, the National Repertory Orchestra, the Orchestra Nacional de Mexico, the Symphony Orchestra of the Curtis Institute, the Buffalo Philharmonic, and the Virginia Symphony, among others. In 1988, he toured Asia with the National Repertory Orchestra as concertmaster and soloist, including performances in Seoul, Korea as part of the Olympic Arts Festival. In the same year he also made his New York debut at Carnegie Hall to critical acclaim as a participant in the American Music Competition. In 1990, he traveled to the Persian Gulf to perform for the men and women of the armed services. The Washington Post called Wetherbee "a consumate artist...with flawless technique". The Virginia Pilot said that he "...gave a performance of great conviction and emotion". Recently, Mr. Wetherbee was awarded the Baltimore Chamber Orchestra's 2005-2006 Ashworth Artist award. He was also the recipient of the Columbus Symphony's 2003 George Hardesty Award.

Charles is an artist dedicated to the music of today, as well as the great literature of the past. In May of 2007, he was invited to St. Petersburg, Russia, to give the Russian premeire of Grammy Award winning composer John Corigliano's Violin Concerto, and he was subsequently invited back to perform the Beethoven concerto in the famous Shostakovich Philharmonic Hall. In November 2005, Charles gave the World Premiere of the Violin Concerto by composer Jonathan Leshnoff with the Columbus Symphony, and subsequently performed the concerto in Baltimore, MD with the Baltimore Chamber Orchestra. After this performance, The Baltimore Sun wrote "This was very classy fiddle playing, with a golden, penetrating tone, sterling technique and strongly communicative phrasing." Mr. Wetherbee then performed the Leshnoff concerto in Mexico City, Mexico, with the Orchestra Nacional de Mexico, in Kyoto, Japan, with the Kyoto Symphony Orchestra, and in Breckenridge, Colorado, with the National Repertory Orchestra. Charles has been heard nationwide on the NPR program "Performance Today", featuring his performance of the Red Violin by John Corigliano with Joanne Falletta and the Buffalo Philharmonic Orchestra. In 2002, he gave the Latin American premiere of the Red Violin , and was immediately re-engaged to return in 2003, for performances of the Szymanowski Violin Concerto. He has also been heard throughout the Northwest United States on public radio as a performer in the Olympic Music Festival from 2002 - 2006.

A devoted chamber musician, Charles is the first violinist of the Carpe Diem String Quartet, with whom he tours and performs regularly. He is also the Artistic Director of The Marble Cliff Chamber Players, a music festival based in Columbus, Ohio. He is founding member of Opus 3 piano trio, and with Opus 3 has performed in the French, German, Austrian, and Dutch embassies, as well as the Terrace Theater of the Kennedy Center, the National Gallery, the Corcoran Gallery, Strathmore Hall, and throughout the eastern United States. He is also the artistic director of the Snake River Chamber Players, in Keystone, Colorado.

Charles is a graduate of the Curtis Institute of Music, where he studied with Aaron Rosand. Other mentors include Sylvia Rosenberg, Karen Tuttle, and Felix Galimir. As a recording artist, he is represented on Naxos, the Vienna Modern Classics, as well as the Cascade labels, and in 2002 was also featured on a recording with the Columbus Symphony Orchestra playing Massenet's Meditation from Thais. In 2002, Charles was fortunate to acquire a violin made by Kurt Widenhouse.

March, 2009


Phyllis East [ top ]
Phyllis East, Professor of Piano and Coordinator of the Keyboard Area at SUNY College at Fredonia, holds degrees from the Oberlin Conservatory of Music and the School of Music at SUNY College at Fredonia. Further studies followed at the Mozarteum in Salzburg, Austria, Case-Western Reserve University in Cleveland, the Marlboro Summer Music Festival in Vermont, and the Franz Schubert Institute for singers and pianists in Vienna. A much sought-after chamber musician, Mrs. East continues an active career with frequent concerto and recital appearances. Pianist with the Western New York Chamber Orchestra, she has performed as soloist with the orchestra in concertos by Mozart, Ravel, Gershwin, Messiaen, Bach, Poulenc, Schumann, and the premiere of the Ballade for Piano and Orchestra by American composer Byron Adams. She has also performed as soloist with the Buffalo Philharmonic, the Erie Philharmonic and as harpsichordist with the International Baroque Soloists Bach and Beyond Festival. Her recording of Schubert's Winterreisse with baritone Patrick Mason was released by Bridge Records in the spring of 1995 and has received glowing reviews. For seven years she served as piano instructor for the Pennsylvania Governor's School for the Arts. In 1989 the SUNY College at Fredonia honored her as the recipient of the President's Award for Excellence in Teaching.
[ top ]
Violist Virginia Barron is equally adept as a chamber player, orchestral musician, and teacher. A native of Toronto, Canada, Virginia received her training at the University of Toronto and the Manhattan School of Music. Her principal teachers were Lillian Fuchs, Kim Kashkashian, and Paul Armin. An experienced orchestral player, Virginia has performed with the Chicago Symphony, Toronto Symphony, Milwaukee Symphony, Lyric Opera Orchestra, and the Canadian Opera Company Orchestra. She has been a regular sub with the Chicago Symphony for the past 18 years, and has gone on five international tours with the orchestra, most recently to Amsterdam, London, and Lucerne, under Bernard Haitink.

An ardent chamber musician, Virginia has served the Colorado College Summer Music Festival for many years, as performer, teacher and Associate Director. She is also Associate Director of the Sweetwater Chamber Music Weekend in Owen Sound, Ontario, and heads the Education Committee of that festival. Other summer chamber music festivals she has appeared at include Ravinia, Grand Teton, Algonquin, Yellow Barn, and the Greenwood Music Camp. She has performed frequently with Robert Aitken's New Music Concerts in Toronto, and is heard on a recent Naxos release of the music of Elliot Carter. A dedicated teacher and chamber music coach, she currently serves on the faculties of the University of Western Ontario and the University of Toronto.


Shieh-Jian Tsai, Violin

[ top ]
Mr. Shieh-Jian Tsai has been a member of the violin section with the Buffalo Philharmonic Orchestra since 2004. Prior to this appointment, he had participated in festivals where he performed under renowned Maestros such as Seiji Ozawa, James Conlon, Hans Graf, Gunther Schuller and Benjamin Zander, with colleagues from around the world. In Fall of 2007, Mr. Tsai was invited on tour with the Verbier Festival Orchestra under direction of Maestro Jiri Belohlavek, piano soloists Yundi Lee and Lang Lang, performing in major concert halls in Europe and South America.

A native of Taipei, Taiwan, Mr. Tsai began playing the violin at age 6. While attending music conservatory in Taipei, he received numerous awards and was winners of several national competitions. Mr. Tsai received his Bachelor of Music in Violin Performance from the University of Illinois, Urbana-Champaign, and Master of Music in Violin Performance from New England Conservatory in Boston, MA. His principle teachers include Mr. Gerardo Ribeiro, Mr. Sherban Lupu, and Ms. Masuko Ushioda.

After winning their 5th violin concerto competition in 2004, Mr. Tsai was a featured soloist with the Taiwan Strings Orchestra performing Mendelssohn Violin Concerto in D minor, and made his debut at the National Concert Hall in Taipei, Taiwan. As an active soloist, Mr. Tsai performs regularly with the Camerata di San't Antonio and Ars Nova Chamber Orchestra. He made WNY premiere of Jean Sibelius' Suite for Violin and String Orchestra, and most recently the Violin Concerto by Alexander Arutiunian.

An ardent chamber musician, Mr. Tsai has been invited to Musicorda, Sarasota, and Tanglewood Music Festivals, where he worked with great musicians such as Pamela Frank, Emanual Ax, Arnold Steinhardt, Ronald Copes of the Juilliard String Quartet, St. Petersburg String Quartet, Shanghai Quartet and Ying Quartet. He is a member of the Buffalo Chamber Players and has been a guest artist at A Musical Feast at the Burchfield Penny Art Center, Chamber Music on Elmwood, Chamber Music Society of Olean, Akron Summer Music Festival and the Northwestern Oklahoma State University. As a member of the Nuance Chamber Ensemble, he has performed annually in concert halls throughout Taiwan and at the Weill Recital Hall at Carnegie Hall.
[ top ]
Flutist, Barry J. Crawford is a member of the Jupiter Symphony Chamber Players in New York City and the international touring group, Poetica Musica, with whom he has performed and given master classes in over 16 countries. He regularly performs as a guest artist with some of New York's leading ensembles. The New York Sun reported, "Mr. Crawford is a musician with guts….and brought a robust flute sound", "Crawford always performs with steely accuracy and a superb, singing tone". The Southampton Press said of his performance, " … Crawford's playing was superb. I admired his tone, his phrasing and breath control, and the joy-giving communicative quality of his playing.'' "Crawford is a superb flutist with a silvery tone, exquisite phrasing, and a fluid deftness". He has participated in numerous internationally recognized music festivals, such as Mostly Mozart, the Lincoln Center Festival, the Spoleto Festival in Spoleto, Italy, and the Pablo Casals Festival, in San Juan, Puerto Rico . Mr. Crawford is a staff member at the Composers Conference at Wellesley College, an Affiliate Teaching Artist at Sarah Lawrence College in Bronxville, NY, and Assistant Adjunct Professor of Flute and director of the flute ensemble at the University at Buffalo.
[ top ]
Pianist Alison d'Amato is a dynamic and versatile musician, committed to performing and teaching the full spectrum of solo and chamber music genres. She is actively engaged in developing residencies that explore collaborations among performers, often in partnerships with composers. Alison is Artistic Co-Director of Florestan Recital Project, and a co-founder of the Vancouver International Song Institute (VISI). She is currently a visiting Assistant Professor at the University at Buffalo, where she is a recitalist, collaborative teacher, and coach for a growing music department. Alison has performed at venues across North America, including Boston's Jordan and Symphony Halls and Weill Recital Hall. She recently coordinated Florestan Recital Project's 2010 Vanguard Festival as Musical-Artists-in-Residence at Dickinson College. In 2010, Alison was a key participant in a new partnership between VISI and the Canadian Music Centre which connects local composers and audiences. In 2009, she co-produced Florestan's BarberFest: The Complete Songs of Samuel Barber in Boston, which included the premieres of many unpublished songs obtained from the U.S. Library of Congress. Her 2010-2011 season includes lieder recitals in Oberlin and Pittsburgh, a residency with the ETHOS New Music Festival at SUNY Fredonia, and a collaboration with the Boston-based WordSong Forum. For more information, please visit www.alisondamato.com .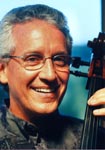 Carter Enyeart [ top ]
A graduate of the Eastman School "with Distinction" and the Performer's Certificate, cellist Carter Enyeart has enjoyed a distinguished and varied career. His broad experience as soloist, chamber musician, and orchestral player has established his reputation as a leading artist/teacher and respected colleague. He has performed and presented chamber music recitals and given master classes at schools of music and conservatories across the United States and in the music capitols of Europe, Asia and South America.

He is currently the Rose Ann Carr Millsap/Missouri Distinguished Professor of Cello and Chamber Music at the Conservatory of Music and Dance of the University of Missouri-Kansas City. His CDs on Centaur contain several world premiere recordings of works by David Dzubay and Robert Muczynski. Fanfare magazine proclaimed his rendition of the Muczynski Cello Sonata as "…an extraordinary performance….a reading of unerring precision and blistering intensity."




Ruth Wiesenfeld [ top ]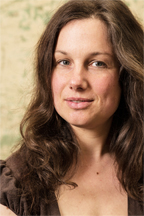 The composer and performer Ruth Wiesenfeld was born in Munich (Germany) in 1972. She studied composition with James Fulkerrson (Amsterdam) and Joan La Barbara (NYC). In 2008 she graduated from Dartington College of Arts / University of Plymouth (UK) with a PhD in composition, in 1997 from the European Dance Development Center in Arnhem (Netherlands) with a BA in contemporary dance and choreography. She teaches at the Hochschule für Musik Hanns Eisler in Berlin.

In recent years she received commissions from Klangkunstfestival Mitte Berlin (2008), Torbay Symphony Orchestra (2007), Collection Rolf Ricke (2007) and James Fulkerson (2006). Her works have been presented in numerous venues, including Radialsystem (Berlin), Neues Museum (Berlin), Villa Elisabeth (Berlin), Kunstmuseum Liechtenstein, Paradiso (Amsterdam), BKA (Berlin), Guildhall School of Music (London) and Flavel Center for the Arts (Dartmouth). Currently she collaborates with the Ensemble Kaleidoskop, the dance company Sasha Waltz & Guests, the movie maker Deborah Phillips and the poet Sigrid Maria Groh. Her work has been supported by Stiftung Kulturfonds of the Berlin Senate and the Dartington International Summer School (Sir William Glock Scholarship in 2002 and PRS Scholarship for Music for Film/TV in 1997). Her piece Hautfelder for five violas won the third prize in the 2006 competition of Viola Stiftung Walter Witte, her piece Ja'el for solo double bass reveived an honorary mention in the 2002 competition of the International Society of Bassists. In 2009 her orchestral work spun yarn was selected for performance in the competition ad libitum" (Music of the centuries Stuttgart). Since 2008 Ruth Wiesenfeld is the Vice President of the Berliner Gesellschaft für Neue Musik (Berlin Society for New Music). A strong focus in her composing is the haptic and textural element involved in playing an instrument and the quality of touch with which the sounds are produced: "I think about sound in a very simple way: as vibrating waves travelling through the air, eventually meeting with the listener in a form of touch. It is my intention to engender a listening that is turned towards resonance and perception perceiving itself - a listening which is receptive to the performance situation as a whole, including the sensorial perception of acoustic vibration as well as an awareness of the performers' presence within their musical utterance." Ruth is married to the painter Daniel Wiesenfeld, the son of the late painter Paul Wiesenfeld, who taught at State College before moving to Germany. His work is in the collections of the Albright Knox Gallery and The Burchfield Penney Art Center.

SOUNDS


https://soundcloud.com/ruth-wiesenfeld


Moshe Shulman [ top ]
Russian-born Israeli composer, violin, viola, bandoneon and accordion player, Moshe Shulman (b.1978) holds a Bachelor and Master of Music degrees in composition from the Jerusalem Academy of Music and the PhD degree in composition from the NY State University at Buffalo, studying with Mark Kopytman, David Felder and Johannes Schollhorn through the years. His music was performed in Israel, Canada, United States, Russia and France and Hungary with various ensembles such as Norrbotten NEO and Juventas New Music Ensemble, Le Nouvel Ensemble Moderne, Meridian Brass Quintet, Slee Sinfonietta (Buffalo, NY), International Contemporary Ensemble (ICE) and Arditti Quartet.

As a student he received numerous award, scholarships and assistantships from Israel and USA. He received a 2015 Fromm Foundation Commission from Harvard University. In summer 2009, Moshe won 3rd prize for "Construction 3" at the Jurgenson Contemporary Music International Competition in Moscow.

Moshe is a performer of classical/contemporary music, Argentine tango, klezmer, and Gypsy music. In 2012, Shulman led the Baires Klezmer Orchestra in Buenos Aires, Argentina and formed Buffalo Tango Orkestra. In addition, Moshe performed on bandoneon at numerous festivals in Toronto, Boston and Balitimore with world tango famous artist such as Ariel Ardit and on stage with classical ensembles and orchestras.

Currently he is on the Music Faculty at the University at Buffalo, Walden Summer Music Camp.
www.mosheshulman.com


Alice Teyssier [ top ]
Born in Australia to French parents, flutist Alice Teyssier grew up in the United States and currently resides in Germany. She obtained her Bachelor's and Master's degrees at the Oberlin Conservatory of Music and a specialization diploma under the tutelage of Mario Caroli at the Conservatoire de Strasbourg. A specialist in the Baroque and contemporary repertoire, Alice seeks out unknown or underperformed works. She is co-founder of the contemporary music ensemble Echoi and the early music ensemble La Perla Bizzarra. Also a singer, she gained recognition in 2007 for singing the leading role in the American premičre of Olga Neuwirth's opera 'Lost Highway' in New York City. [ top ]
Pianist Eric Huebner has drawn worldwide acclaim for his performances of new and traditional music since making his debut with the Los Angeles Philharmonic at age 17. As a frequent guest pianist with the New York Philharmonic, Mr. Huebner has been featured in performances of Stravinsky's Petroushka and Firebird suites, and in appearances as a part of CONTACT! – the Philharmonic's recently formed new music series. In 2006, Mr. Huebner performed György Ligeti's Piano Concerto with David Robertson conducting at Carnegie's Zankel Hall and was subsequently invited to perform Olivier Messiaen's Oiseaux Exotiques as part of a Live from Lincoln Center gala broadcast on PBS. Since 2001, Huebner has been a member of Antares, a quartet comprised of clarinet, violin, cello and piano. First prize winners of the 2002 Concert Artists Guild International Competition, Antares appears regularly in major chamber music venues throughout the country.

Performing highlights in recent seasons include: Jay Alan Yim's neverthesamerivertwice for piano and chamber orchestra with the New York Philharmonic and Alan Gilbert, conducting, Olivier Messiaen's complete Vingt Regard sur l'Enfant-Jésus at the Ojai Festival, appearances at the Monday Evening Concerts and Piano Spheres series in Los Angeles, the oh-ton new music series in Oldenburg, Germany, György Ligeti's Piano Concerto with the University at Buffalo's Slee Sinfonietta, James Baker, conducting, and recitals in New York City of the solo music of Stravinsky and Andriessen presented by Miller Theater and Le Poisson Rouge, respectively.

Mr. Huebner is currently Assistant Professor of Piano at the University at Buffalo and holds B.M. and M.M. degrees from The Juilliard School where he was a student of Jerome Lowenthal.


Immanuel Naylor [ top ]
Immanuel Naylor (Associate Director) a native of Maryland, is a 2006 graduate of Elon University in North Carolina. Manny moved to Buffalo, NY in 2007 to become a founding member of LehrerDance. Prior to joining LehrerDance, Manny performed as a guest artist in Elon University's Spring Dance Concert, Walkerdance's The Nutcracker in Burlington, NC, American Dance Festival's Acts to Follow in Durham, NC. Manny was also a founding member of Kearns Dance Project based in North Carolina. Since moving to Buffalo, Manny has performed in Musicalfare Theater's production of Aida and All Shook Up at Artpark and American Rhapsody in Amherst. He has also performed in Dancenter North's production of The Nutcraker as Soldier Doll and Russian at the beautiful Genesee Theatre in Waukegan, IL. Manny is extremely excited to be living in Buffalo and working with such great artistic talents.


Colleen Walsh [ top ]
Colleen Walsh was born and raised in Buffalo, NY, and began her training at Steppin' Out Dance Academy at the age of 4, where she currently teaches. In 2010 Colleen received her BFA in Dance from the University at Buffalo. While at UB, she was a member of the Zodiaque Dance Company for three consecutive years, beginning her freshman year in the Zodiaque Studio Dance Ensemble. In her Senior year, Colleen was awarded the first LehrerDance Observership which was established through the partnership with LehrerDance and the University at Buffalo's Department of Theatre & Dance. She is excited and honored to begin her professional dance career with the LehrerDance.


Jon Lehrer [ top ]
Jon Lehrer is the Founder and Artistic Director of LehrerDance, an exciting and innovative professional dance company based in Buffalo, NY. Prior to starting the company in 2007, Jon was the Associate Director, 10 year company member, and Resident Choreographer for Giordano Jazz Dance Chicago. Jon has also performed with the Erick Hawkins Dance Company, John Passafiume Dancers, at Resorts Casino/ Hotel in Atlantic City, and the Radio City Rockettes Christmas Spectacular. Jon teaches master classes around the world, and his choreography is performed by numerous professional and collegiate dance companies. He has been featured on the cover of Dance Teacher Magazine, is on the Advisory Board of Dance Spirit Magazine, and his company, LehrerDance, has been featured in Dance Magazine several times. LehrerDance tours extensively, keeping audiences on the edge of their seats with their trademark athletic style, technical flash and full-throttle fearlessness. As Dance Magazine said, "LehrerDance took the house not so much by storm as by quantum physics. Jon Lehrer's strikingly original choreography transformed the stage into an energy field of super-charged particles." LehrerDance is proud to be the professional dance company in partnership with University at Buffalo Department of Theatre & Dance, helping the arts thrive in Western New York.


Rachael Humphrey [ top ]
Rachael Humphrey is originally from Buffalo, NY, where she studied dance at the American Academy of Ballet with Maris Battaglia. Rachael is a 2010 graduate of SUNY Potsdam and has performed pieces by many professional companies including Bridgman/Packer Dance, Configurations Dance Theater and Danny Grossman Dance Company. Rachael is excited to be back home in Buffalo dancing in her second season with LehrerDance


Theodore Krzykowski [ top ]
Theodore Krzykowski is from Marcellus, NY and began formal dance training at the age of 19 with Absolute Dance Company in Auburn, NY. Prior to this, Ted studied gymnastics at CNY Gymnastics and West Side Gymnastics in Syracuse, NY. In 2006 Ted spent the summer in Seattle, WA at the United Stuntman Association where he earned his certification as a trained stuntman from the world renowned David Boucher. This varied training has enhanced Ted's reputation as an accomplished break-dancer performing in many events, competitions, and promotions throughout the world. Ted is honored to be a fourth year company member of LehrerDance, and is proud that his diverse background contributes to the growth of the company.
[ top ]
Double Bass player, Julia Shulman has given concerts as a soloist, chamber musician, and an orchestra player as well.

She has participated in various performances with Dohnányi Youth Symphonic Orchestra, Jerusalem Baroque Orchestra, Jerusalem Broadcast Symphonic Orchestra and many Massachusetts-area orchestras, such as the Brockton Symphony Orchestra, Cape Ann Symphony and New Bedford Symphony Orchestra. As a chamber musician, Julia played in different groups, such as the Garitselova-Shulman cello-double bass duo and the Music after 1900 chamber music series, among others.

She has participated in several contemporary ensembles and projects, such as the Mexican tour of the Eastman Broadband, Slee Sinfonieta and the Quey Percussion Duo.

Currently working on her DMA at the Eastman School of Music, Julia holds a Bachelor of Music degree from the Rubin Academy in Jerusalem and a Master of Music degree from the Longy School of Music. Her main teachers were István Lukácsházi, Michael Klinghoffer, Pascale Delache-Feldman and James VanDemark.
[ top ]
John Bacon, percussionist and composer, has performed with Lester Bowie, Roswell Rudd, Bobby Previte, the Buffalo Philharmonic Orchestra, Bobby Militello and as featured soloist with the SUNY Fredonia percussion ensemble. He teaches percussion, and directs a Latin Jazz Ensemble at SUNY Fredonia. He also teaches at UB and Villa Maria College in Buffalo , NY . He holds a PhD. in Music Composition form SUNY at Buffalo and a Masters Degree in Music Performance from SUNY Fredonia. Equally skilled as a percussionist and trap drummer, he has been a member of (hatArt) recording artists The Maelstrom Percussion Ensemble, as well as leading his own ensembles. His music has been performed by a diverse collection of musicians, including The Amherst Saxophone Quartet , Leroy Jenkins, the New Jazz Orchestra of Buffalo, the New York New Music Ensemble, Amanda Deboer and the Colorfield Ensemble and Ensemble Laboratorium. He has toured in England , Italy , Canada , and the US . A 2004 CD release, "Jack Rabbitt", is an organ trio outing on the Cadence Jazz Records label featuring tenor saxophonist Don Menza and organist Bobby Jones. His recording entitled "Boxing Day" was released on Jazz Dimensions Records in May 2007 and features a series of improvisations with pianist Paul Bley. Recent creative projects include bacbaclove with Jonathan Golove (cello) and Steve Baczkowski (winds) and Improv Ork. You can find more information about John, at johnbaconjr.com. [ top ]
Through more than a hundred published works and many recordings, Bernard Rands is established as a major figure in contemporary music. His work Canti del Sole, premiered by Paul Sperry, Zubin Mehta, and the New York Philharmonic, won the 1984 Pulitzer Prize in Music. His large orchestral suites Le Tambourin won the 1986 Kennedy Center Friedheim Award.Conductors including Barenboim, Boulez, Berio, Maazel, Maderna, Marriner, Mehta, Muti, Ozawa, Rilling, Salonen, Sawallisch, Schiff, Schuller, Schwarz, Silverstein, Sinopoli, Slatkin, von Dohnanyi, and Zinman, among many others, have programmed his music.Rands served as Composer in Residence with the Philadelphia Orchestra for seven years. The first three years were funded by the Meet The Composer Residency Program, with four years continued funding by The Philadelphia Orchestra. Through this residency Rands made a wonderful and dedicated contribution to the music of our time.Rands' works are widely performed and frequently commercially recorded. His work Canti d'Amor, recorded by Chanticleer, won a Grammy Award in 2000.Born in England, Rands emigrated to the United States in 1975, becoming an American citizen in 1983. He has been honored by the American Academy and Institute of Arts and Letters; Broadcast Music, Inc.; the Guggenheim Foundation; the National Endowment for the Arts; Meet The Composer; the Barlow, Fromm, and Koussevitzky Foundations, among many others. In 2004, Rands was inducted to the American Academy of Arts and Letters.

Recent commissions have come from the Suntory Concert Hall in Tokyo, the New York Philharmonic, Carnegie Hall, the Boston Symphony Orchestra, the Cincinnati Symphony, the Los Angeles Philharmonic, The Philadelphia Orchestra, the BBC Symphony Orchestra, the National Symphony Orchestra, the Internationale Bach Akademie, the Eastman Wind Ensemble, and the Chicago Symphony Orchestra. Many chamber works have resulted from commissions from major ensembles and festivals from around the world. His chamber opera, Belladonna, was commissioned by the Aspen Music Festival and School for its fiftieth anniversary in 1999.Rands is currently composing a full-scale opera, Vincent, based on the life and work of Van Gogh, with poet J.D. McClatchy. A dedicated and passionate teacher, Rands has been guest composer at many international festivals and Composer in Residence at the Aspen and Tanglewood festivals. Rands is the Walter Bigelow Rosen Research Professor of Music at Harvard. He has received honorary degrees from several American and European universities.The originality and distinctive character of his music have been variously described as 'plangent lyricism' with a 'dramatic intensity' and a 'musicality and clarity of idea allied to a sophisticated and elegant technical mastery' – qualities developed from his studies with Dallapiccola and Berio. Musical America has referred to Rands as "a composer with a poet's sensibility and a painterly love of color and line."


Nathan Heidelberger [ top ]
Nathan Heidelberger is a Presidential Fellow at the University at Buffalo, where he is pursuing a PhD in music composition. He holds a BM in composition and a BA in English from Oberlin College and Conservatory, where he was awarded the Walter E. Aschaffenburg Composition Prize and was inducted into the Phi Beta Kappa honors society. Nathan's primary teachers have included David Felder, Lewis Nielson, and Richard Carrick, and he has participated in masterclasses with such composers as Helmut Lachenmann, Rebecca Saunders, and Chaya Czernowin. His piece Of songs for soprano and string quartet won the 2010 Frank Robert Abel Young Composers Contest through the University of Louisville, and Bone Alphabet Soup, a piano solo, is featured on the 2009 edition of Aural Capacity, the biannual CD release from Oberlin's Contemporary Music Division. He has received performances from Ensemble Linea, the New York New Music Ensemble, the Oberlin Contemporary Music Ensemble, Magnus Andersson, and the San Francisco Choral Artists. Sometimes a pianist, Nathan focuses on performing contemporary music. He worked closely with Helmut Lachenmann during the composer's 2008 residency at Oberlin to prepare his solo piano works Echo Andante and Ein Kinderspiel.


Julia Bentley [ top ]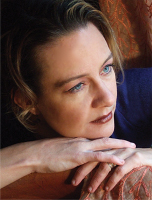 Since completing apprenticeships with the Santa Fe Opera and the Chicago Lyric Opera, mezzo-soprano Julia Bentley has appeared in leading operatic roles (Carmen, Rosina, Dorbella, Despina, and both Rossini and Massenet Cinderellas) from Anchorage to New York, and has been featured as a soloist with orchestras led by George Manahan, Raymond Leppard, Oliver Knussen, Robert Shaw and Pierre Boulez. She performs in Chicago with Mostly Music, CUBE, the Contemporary Chamber Players, the Orion Ensemble, Pinotage, the New Budapest Orpheum Society, Ensemble Noamnesia, Fulcrum Point, the Chicago Chamber Musicians, Chicago Opera Theater, Concertante di Chicago, the Newberry Consort, the Chicago Symphony Orchestra, Chicago Lyric Opera and the MusicNOW series at Symphony Center with conductor Cliff Colnot. In 2001 she appeared tocritical acclaim at Weill Hall with Pierre Boulez as the soloist in Le Marteau Sans Maître. She has recorded on the Albany, Cedille and Tintagel labels. Recent engagements have included performances of La Damnation de Faust with the Eastern Connecticut Symphony Orchestra, Pierrot Lunaire with eighth blackbird, La Cenerentola with Sacramento Opera, Little Women with the Dayton Opera, and the Bach B Minor Mass with the Apollo Chorus as well as chamber music series in Chicago, Philadelphia, New York and the National Holocaust Museum in Washington, D.C. She currently teaches voice at the Music Institute of Chicago. She teaches graduate Song Literature at North Park University, and is on the voice faculties at the DePaul University School of Music, Concordia University, and The Music Institute of Chicago." She is pleased to return to Buffalo after her recent appearances with the Slee SInfonietta." [ top ]
Pianist Kuang-Hao Huang has performed throughout the United States as well as in Europe and Asia. Mr. Huang is most often heard as a collaborator, performing concerts and radio broadcasts with Chicago's finest musicians, from instrumentalists of the Chicago Symphony Orchestra to singers with the Lyric Opera. He has been a regular guest of the Chicago Chamber Musicians and has performed with the Vermeer and Chicago String Quartets. Mr. Huang can be heard in recordings on the Cedille and Naxos labels.

An advocate of new music, Mr. Huang gave the world premiere performances of solo works by Louis Andriessen and Chen Yi at Weill Hall as part of Carnegie Hall's Millennium Piano Book Project. He has also premiered numerous ensemble works, including pieces by Jacob Bancks, Stacy Garrop, John Harbison, Daniel Kellogg, Rami Levin, James Matheson and Laura Schwendinger. Mr. Huang is a member of Fulcrum Point New Music Project. He has been involved with the Chicago Chamber Musicians Composer Perspectives series since its inception in 2001.

Also a dedicated teacher, Mr. Huang serves on the faculties of the Chicago College of Performing Arts at Roosevelt University, Concordia University-Chicago and the Merit School of Music. As a member of the International Music Foundation's Bootinsky Piano Trio, he has presented educational outreach programs throughout the Chicago Public Schools. For a decade, he coordinated the piano program at Northwestern University's National High School Music Institute. He has also served on the faculty of the Mimir Chamber Music Festival at TCU in Ft. Worth, Texas.

Mr. Huang has degrees from the University of Wisconsin, Indiana University and Northwestern University. His principal teachers include Leonard Hokanson, Joseph Kalichstein, Howard Karp, Rita Sloan and Sylvia Wang. During his graduate studies, Mr. Huang was a recipient of the U.S. Department of Education's Jacob K. Javits Fellowship. He was also a member of the New World Symphony, Michael Tilson Thomas's orchestral academy.

A native of Whitewater, Wisconsin, Mr. Huang currently resides in Oak Park, Illinois with his wonderful wife and kids. [ top ]
Ann C. Colley teaches British Literature at Buffalo State College. She is a SUNY Distinguished Professor who specializes in Victorian literature. Among her interests are the works of Edward Lear and the writings of Robert Louis Stevenson. Her books are: Tennyson and Madness; The Search for Synthesis in Literature and Art: The Paradox of Space; Edward Lear and the Critics; Nostalgia and Recollection in Victorian Culture; Robert Louis Stevenson and the Colonial Imagination; and Victorians in the Mountains: Sinking the Sublime. Most recently after spending time as a Visiting Fellow at Wolfson College, Cambridge, UK, she is working on a book about the role of skin in Victorian portraiture. [ top ]
Wildy Zumwalt is an active performer, teacher and scholar of the saxophone with regular appearances in the US and Europe. Recent engagements have included concerts and classes at the 8th International Saxophone Festival in Szczecin, Poland, the Utrecht Conservatorium in Holland, The University of Illinois-Champaign, West Texas A&M, Ithaca College, and Carson-Newman College.

In 2009, Zumwalt was a featured soloist with the Buffalo Philharmonic Orchestra, performing the Concerto by Lars-Erik Larsson. He plays regularly with the Chautauqua Symphony, and has sat in with the Knoxville Symphony, Fort Wayne Philharmonic, Buffalo Philharmonic, Western New York Chamber Orchestra, and the Naples (FL) Philharmonic among others. He has also been featured in numerous radio broadcasts including National Public Radio's Performance Today.

Dr. Zumwalt is a noted scholar on early German repertoire for the saxophone and his research has led to the rediscovery and publication of works for saxophone by composers Edmund von Borck, Hans Brehme and Hugo Kaun.

Zumwalt is currently Associate Professor of Saxophone at SUNY Fredonia.

Diane Hunger [ top ]
Diane Hunger, a native of Germany, is currently serving as faculty at SUNY Fredonia, Roberts-Wesleyan College in Spencerport, and Canisius College in Buffalo. She recently completed her Doctoral Degree in Saxophone Performance and Literature with a Minor in Music Business at The Eastman School of Music studying with Prof. Chien-Kwan Lin while serving as his teaching assistant. Furthermore, she was awarded the prestigious Performer's Certificate and completed a Certificate in Arts Leadership while at Eastman. Previously she taught i.e. at the Chautauqua Summer Music Camp, the 7th International Saxophone Festival in Szczecin, Poland, the community music school Mainz, Germany, and worked as Administrations and Operations Assistant for the Buffalo Philharmonic Orchestra.
Diane received a Masters in Performance from SUNY Fredonia in 2009 and a Diplom-Saxophonlehrer with honors from the Musikhochschule Frankfurt/Darmstadt in 2008.

Diane was the winner in the 2011 Eastman Saxophone Concerto Competition, and a first place winner in the 2012 American Protégé International Competition, because of which she was invited to perform in Carnegie Hall in April 2012.

Active internationally as soloist as well as chamber musician she was asked to perform at the World Saxophone Congress in Scotland, the International Alliance of Women in Music Conference in Flagstaff, Arizona, the North American Saxophone Alliance Conference in Phoenix, AZ, toured Spain with the Linda Bangs Saxophone Orchestra, and recorded for the Bavarian Broadcast Station. Additionally, she lately performed a series of concerts in Germany, Poland and the Netherlands with the duo Klang par2, performing i.e. at the Music University Oldenburg, the Hogeschool voor de Kunsten in Utrecht and the Alte Synagoge Mainz.

Recently she could be heard as soloist with the Eastman Graduate Chamber Orchestra, the symphony orchestra from the Akademie für Tonkunst, the Frankfurter Orchestergesellschaft, and the Wandsbeker Sinfoniker. In addition, she has played with the Mannheimer Bläserphilharmonie as well as the Landes-Polizei-Orchester Hessen.

Diane Hunger is a member of the duo Klang par2 and is presently working with composers to expand the repertoire for two saxophones.

Diane Hunger has participated in numerous master classes including those given by the Raschčr Saxophone Quartet, Carina Rascher, Richard Scruggs, John-Edward Kelly, Jean-Marie Londeix, and Claude Delangle.

Diane is a D'Addario Performing Artist.
www.dianehunger.com
[ top ]
Over the past four years Michael McNeill has become an integral part of the thriving creative music scene in Buffalo. His imaginative piano playing has found a home alongside jazz players ranging from Maynard Ferguson-alumnus Bruce Johnstone to local underground hero Steve Baczkowski, and he has developed a personal voice on the harmonium in ensembles led by percussionist Ravi Padmanabha. McNeill performs composed music with the Wooden Cities New Music Collective, co-leads a jazz quintet with the polymath drummer John Bacon, and has collaborated with trumpet legend Paul Smoker on a variety of projects. He also composes for, plays with, and facilitates the New Buffalo Jazz Octet, an ensemble made up of "…a veritable who's who list of killer regional jazz players…" (Buffalo News). Passageways, McNeill's debut CD as a leader, features renowned improvisers Ken Filiano (bass) and Phil Haynes (drums) on a program of original compositions

Megan Grace Beugger [ top ]
Megan Grace Beugger (b. Arlington heights, IL USA, 1987) is a composer currently based in Buffalo, NY. Megan's music has been performed by members of Dal Niente, Ensemble SurPlus, and CSO cellist Katinka Kleijn, among others, and heard at festivals and concert series including Schloss Solitude Summer Akademie, Chicago Humanities Festival, Summer Institute of Contemporary Performance Practice in Boston, Munich Philarmonic Gasteig "E-Werk" series, and June in Buffalo. In 2010, she graduated cum laude from Northwestern University with departmental honors. Megan just completed her third year working towards her PhD in composition with David Felder at SUNY University at Buffalo, where she has received a Presidential Fellowship. http://www.megangracebeugger.com/

Esin Gündüz [ top ]
Esin Gündüz is a composer and singer. Recently in Buffalo NY, while luckily working towards a PhD degree in music composition under the tutelage of Dr. David Felder, she is having her contemporary music pieces performed by small chamber ensembles which sometimes include her as a performer. Her music is performed recently as part of June in Buffalo Festival (2013 NY), SoundSCAPE Festival (2009, Italy), The 1st Viola and Chamber Music Festival (2010, Istanbul), and more... As a jazz singer for MUJE big band, she performed as part of the Montreux Jazz Festival (CH), and the Jazz a Juan Festival of Nice (FR) in 2009. As a performer who improvises and enjoys the use of traditional materials within, she is one of the founders of the unique improvisational trio: resAUnance along with John Bacon and Michael McNeill, and also is a proud member of groundbreaking new music collective: Wooden Cities of Buffalo. [ top ]
Daniel Bassin is an active conductor, composer, trumpeter and improviser, currently Music Director of the UB Symphony Orchestra, a position he began in autumn 2010, and the newly-appointed Music Director/Choir Conductor at the Unitarian Universalist Church of Buffalo. Daniel came to Buffalo after working for five seasons with the American Symphony Orchestra, in New York City. A New York native, Daniel received his initial training at the Juilliard Pre-College, before being invited by Maestro Benjamin Zander to assist in performances with London's Philharmonia Orchestra, after which he was subsequently awarded a fellowship with Zander's Boston Philharmonic Orchestra. In Boston, he was accepted to the New England Conservatory as a composer, where he also studied trumpet with Boston Symphony Orchestra principal trumpeter, Charles Schuleter, and conducting with Richard Hoenich. His education continued with a Masters of Fine Arts in Orchestral Conducting at Bard College, studying with Maestro Harold Farberman, and he is currently a candidate for the PhD in Composition at UB.

A passionate advocate of contemporary music, Daniel has led first performances of over 80 new works, and has performed as a conductor and trumpeter in 37 countries. In 2008 he acted as assistant conductor for the Jerusalem Symphony Orchestra's 16-city tour of the American West Coast and Midwest. In 2012, Daniel was featured as guest conductor for the Williamsville School District String Orchestra Festival, he had his debut as conductor of the Slee Sinfonietta in April of that year, and he also conducted the UB Percussion Ensemble at the 2012 June in Buffalo Festival. In May 2013, Daniel participated in Ensemble Linea's conducting master classes at the Royaumont Abbey, under the tutelage of Peter Eötvös and Jean-Philippe Wurtz, where he was selected to lead a performance of Karlheinz Stockhausen's Kontra-Punkta. Bassin's work at UB has been featured several times times in ArtVoice's Classical Music Notes column, where Jan Jezioro has recently proclaimed: "It's now official: Daniel Bassin is the most innovative music director that the UB Symphony Orchestra has ever had as its leader." During the 2013-2014 Season, Daniel will lead the UBSO in Buffalo-premiere performances of works by Sibelius, Horatio Parker, Balakirev, Liszt, Elgar and Smetana alongside familiar masterworks by Mozart, Tchaikovsky, Vaughan Williams. Additionally, Bassin and the UUCB Choir will present for the first time in Buffalo Kyle Gann's Transcendental Sonnets (2001-2) and Fanny (Mendelssohn) Hensel's cantata Hiob "Job" (1831), in addition to performances of works by Pinkham, Vaughan Williams, and Bernstein. In November 2013, Daniel will have the honor of conducting the music of his teacher, David Felder, as part of an A Musical Feast concert honoring Felder's 60th birthday, in celebration of his works and lasting contributions to the cultural life of Buffalo.

[ top ]
Hailed by the press as a "breathtaking" and "stunning" pianist, Dmitri Novgorodsky was born to a musical family in Odessa, Ukraine. He began to play the piano at age five and was admitted into a special music school for gifted children a year later. By the age of 16, he had won the First Prize at the Kazakhstan National Piano Competition, and later the Gold Medal of the National Festival of the Arts. After graduating from the studio of Professor Victor Merzhanov at Moscow Tchaikovsky Conservatory with high honors, Novgorodsky immigrated to Israel in 1991.

In 1992, he was offered a full scholarship for advanced studies at Yale University School of Music in the United States. Under the tutelage of Professor Boris Berman, he earned the Master of Music, the Master of Musical Arts, and the Doctor of Musical Arts degrees. Currently, Mr. Novgorodsky is the first and the only Moscow Tchaikovsky Conservatory graduate in Piano Performance to have earned the Doctor of Musical Arts in Piano Performance degree from Yale. In 1999, he was granted the "Extraordinary Abilities in the Arts" permanent U.S. residence, "as one of a small percentage of those who have risen to the top in their field of endeavor."

Dr. Novgorodsky has appeared in Russia, Ukraine, Byelorussia, Kazakhstan, Israel, France, Austria, Canada, Turkey and Taiwan. In the United States, he has performed at such venues as Carnegie Hall and Steinway Hall (New York City); the Kennedy Center and the Residence of Russian Ambassador to the Unites States (Washington, DC); the WLFN Talent Showcase (Philadelphia); the Chazen Museum of Art in Madison, W.I. (in live broadcast solo recitals). One of four chamber compositions by contemporary authors Mr. Novgorodsky has premiered - "The Prophecy from 47 Ursae Majoris" for clarinet and piano by Andrew Paul MacDonald - won the 2001 Third International Web Concert Hall Competition, was performed at Carnegie Hall with Yamaha performig artist, Arthur Campbell, and became a part of the CD Premieres, released on the Gasparo label. A CD of pieces for oboe and piano by the 20th century Russian-Soviet composers, recorded in collaboration with Professor Mark Fink, was released by the University of Wisconsin Madison Press in the fall of 2007 and has been commercially available in the United States, United Kingdom, Canada, Germany, Sweden,Norway, Denmark, France, Spain, Czech Republic, Romania, Turkey, New Zealand, Australia, Greece, China, India, South Africa, and Japan.

Dr. Novgorodsky's pedagogical experience includes more than 13 years of university teaching. His former students have continued their graduate studies at Juilliard, Manhattan School of Music, New England Conservatory, Cleveland Institute of Music, University of Colorado Boulder and the University of Texas at Austin. He has been a piano faculty at Grand Valley State University, University of Wisconsin, Lawrence University Conservatory of Music, the Jerusalem Academy of Music and Dance. He joined the SUNY Fredonia School of Music as an Assistant Professor of Piano in Fall, 2012.

A dedicated teacher, David Colwell became a member of the performance faculty at the University of Virginia in 2006. In 2011, he was appointed Assistant Professor of Violin at State University of New York at Fredonia. He also taught at the Wintergreen Summer Music Academy and served on the faculty of Masterworks Festival. Recently, he offered masterclasses at Ithaca College, California State University at Fullerton, Buffalo State University, and the Jerusalem Academy of Music and Dance in Israel. A native of Alberta, Canada, David received his first violin lessons from Elfreda Gleam and William van der Sloot. He was fortunate to study for nine years with Ranald Shean who instilled in him a deep love of music and a special appreciation of the violinists of the early 20th century. Following a year of study with Edmond Agopian at Mount Royal College in Calgary, he completed his undergraduate education at the University of Alberta under Martin Riseley. As a full scholarship student at Yale School of Music, he entered the studio of Peter Oundjian and Ani Kavafian. He holds the Master of Music, Master of Musical Arts and Doctor of Musical Arts degrees from Yale. As a winner of a Johann Strauss Foundation Scholarship in both 1998 and 1999, David was afforded the opportunity to study at the Internationale Sommerakademie Mozarteum in Salzburg, Austria with Igor Oistrakh, Michael Frischenschlanger, Jean-Jacques Kantorow, and Igor Ozim. In the summers of 2004 and 2005, he studied and performed at the Steans Institute for Young Artists at the Ravinia Festival in Chicago. In June of 2005, David made his formal Ravinia Festival debut at the Martin Theater.

David Rose

[ top ]
principal teachers have been Gerald Stanick at the University of British Columbia, and Atar Arad at Indiana University. He was awarded the position of associate principal viola of the Vancouver Symphony, later serving for eight seasons as principal viola of the Kitchener-Waterloo Symphony and violist with the Canadian Chamber Ensemble, as well as teaching at the University of Waterloo. Also interested in performance on baroque instruments, David studied baroque viola under Stanley Ritchie and performs and tours with Toronto's Tafelmusik. Most recently, David served as the acting assistant principal viola of the San Francisco Symphony, enjoying involvement in a European tour and the grammy winning Mahler symphony recording cycle. David is currently associate professor of viola at the State University of New York at Fredonia.

Natasha Farny [ top ]
American cellist, Natasha Farny made her concerto debut with the Boston Symphony Orchestra at 17. She studied at the Curtis Institute and Yale College during her undergraduate years. After completing her master's and doctoral degrees at Eastman and Juilliard, she received a fellowship for study at the Leipzig Hochschule für Musik. Ms. Farny has performed as soloist with orchestras that include the Buffalo and Abilene philharmonics. Abroad, Ms. Farny performed in the Czech Republic in 2011, and she toured Brazil, giving concerts of two programs in four capital cities in 2013. Her performances with the Asko/Schoenberg Ensemble of Varese's Ecuatorial took place in Amsterdam, London, Paris, and New York City. Nationally, she played in New York City at Bargemusic, on Chicago and Rochester, NY public radio, and at numerous recital series across the country. Ms. Farny was a 2012 winner of the American Composers Forum "Encore Grant." She frequently performs with Chicago pianist, Kuang-Hao Huang and with her trio, ANA, in residence at Fredonia. On the faculty at Fredonia since 2005, Ms. Farny teaches cello and coordinates the string chamber music program. She has been honored at Fredonia with several awards and grants. She has been appointed to summer music festivals in Sewanee, TN, Boulder, CO, Anchorage, AK, Chestertown, MD, and Sweden, ME.

Zhongbei (Daisy) Wu [ top ]
is a Guzheng (or Chinese Zither, a traditional Chinese instrument) artist, She received her B.A. in music from Hunan Normal University, (Changsha, China), and her M.A. in Ethnomusicology from the Graduate School of Chinese National Academy of Arts (Beijing, China). She is now a visiting associate professor of music in the Performing Arts Division of Alfred University and the Culture Activities Coordinator of the Confucius Institute at Alfred University (Alfred, New York).

Daisy is an award-winning Guzheng player. She started playing Guzheng at age of 9. In 1995 she won first prize in the "Guzheng Competition" in Hunan Province, China. She won second prize in the "National University Students Instrument Competition in China" in 1996, and won third prize in the "Dafeng Cup" International Guzheng Competition in 1997. She is a National Guzheng Performance level examiner of China, and the Deputy Chair of the Guzheng Branch of the Hunan Province Musicians Association. She also is the vice president of Tianhan traditional Chinese Orchestra of Hunan province, China. She has been a member of the faculty of Hunan University of Commerce for 10 years: the associate professor of music and the principal conductor and the director of the Hunan University of Commerce Chinese Orchestra. She led the Orchestra to a third prize win of the National University Students' Music Competition in China in 2005. For her teaching achievements, she received two 'National Awards of Excellence in Teaching' in 2004 and in 2005.

From 2010, she moved to the US, as visiting associate professor of music in the Confucius Institute at Alfred University, she began teaching two courses "Guzheng: Music of China" and "Guzheng Ensemble" in the Division of Performing Arts at Alfred University. Her recent performances include solo concerts in the Art Center of Buffalo, Alfred University, Binghamton University, Stony Brook University, Wellsville Public Library, University at Buffalo, St. Bonaventure University, Alfred State College, Niagara University, Pausa Art House in Buffalo, Idaho University (ID), Auburn University (AL), and Burchfield Penny Arts museum in Buffalo. She has also performed more than 100 Guzheng recitals and Chinese music presentation in public schools throughout New York State. Her work and achievements have received a lot of attention from media both in China and the US. In February 2015, she accepted the exclusive interview from Sinovision's "New York Lounge", the largest U.S. based Chinese language television network.