Aurora Borealis: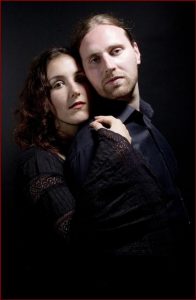 Aurora Borealis was founded in 2004 when percussionist Stephen Solook and soprano Tiffany Du Mouchelle were asked to collaborate in a performance of Roberto Sierra's Invocationes for voice and percussion at the Mannes College in New York City. Since that time, their performances have taken them from New York to Los Angeles, Egypt, Cameroon, and even the remote villages of Papua New Guinea. As a duo, Aurora Borealis has premiered more duo and chamber works for voice and percussion than any other duo of this instrumentation.  The works commissioned by Aurora Borealis focus on expanding the repertoire of voice and percussion composition, specifically in exploring new dimensions within the relationship between these two instruments. When the duo first began to work together, much of their repertoire came from neo-classical and neo-romantic musical traditions. It soon became clear that these traditions tend to favor the voice as a melodic instrument and percussion more in as accompaniment. The duo realized that for Aurora Borealis to be a true "duo" that the nature of their repertoire must then support each instrument equally. This realization has led Du Mouchelle and Solook into close relationships with many American composers, primarily through commissioning new works.  Recent collaborations include works by: Carolyn Chen, Chen-Hui Jen, Stephen Lewis, Ignacio Baca Lobera, Lewis Nielson, Roger Reynolds, Stuart Saunders Smith, Jacob Sudol, and Christian Wolff.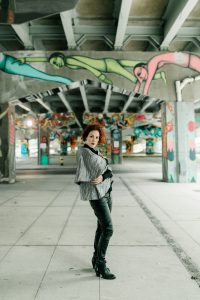 Soprano, Tiffany Du Mouchelle is praised for her musical versatility, an electric stage presence and exceptional dramatic sensibilities. Most recognized for her fearlessness in exploring new and challenging repertoire, she ushers the voice into new realms of expressivity, including a vast array of musical styles and languages, featuring over 100 different languages and exploring the genres of classical, world, contemporary, cabaret, and theatrical works.
Recipient of the prestigious Richard F. Gold Career Grant for American Opera Singers, Du Mouchelle has performed with the  Chamber Music Society of Lincoln Center, Buffalo Philharmonic Orchestra and Chorus, Bang on a Can All-Stars, Center for Contemporary Opera, Yellow Barn Music Festival, Skålholt Summer Music Series in Iceland, Norfolk Chamber Music Festival, and American Composers Alliance, and in such prestigious venues as Lincoln Center, Disney Hall, The Consulate of the Republic of Poland, The New York Historical Society, The Ukrainian Institute, the residence of the United States Ambassador in Cairo, and the Acropolium in Carthage. Recent collaborations include the AUSTRALIAN PREMIERE of Stockhausen's Sirius with Bendigo International Festival of Exploratory Music, the MODERN PREMIERE of Karl von Seckendorff's Proserpina (1777) combined with the WOLRD PREMIERE of Paul Botelho's electro-acoustic mono-opera Proserpina (2016), the WORLD PREMIERE of Roger Reynolds' JUSTICE: The Songs (Clytemnestra), the WEST COAST PREMIERE of Pasqual Dusapin's To Be Sung (Voice Two), along with residencies at Yellow Barn and Songfest.  An active chamber musician, she is the co-founder of Aurora Borealis, a voice and percussion duo with her husband, Stephen Solook.  They frequently commission and perform new works, expanding the repertoire  for this unusual combination.
A frequent collaborator with the cultural diplomacy organization Cultures in Harmony, she has served as an instructor of voice, musical outreach specialist, and performer for projects in Cameroon, Tunisia, Egypt and Papua New Guinea. In fall 2015, Du Mouchelle moved to Buffalo, NY, joining the faculty at University at Buffalo, where she serves as the director of the vocal performance program.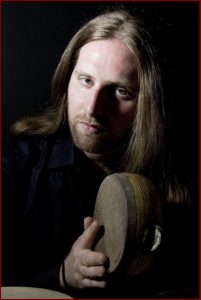 "Outstanding" percussionist Stephen Solook (Robert Bush, SoundDiego) is a new music specialist who regularly performs as an orchestral and world musician. Recently named finalist for Artist of the Year from Arts Services Inc. 2021 Spark Awards. As a member of Aurora Borealis, a soprano and percussion duo with Tiffany Du Mouchelle, they have worked to create duo repertoire with equal voices and have worked with many composers including: Tania Leon, Roger Reynolds, Stuart Saunders Smith, Roberto Sierra, and Christian Wolff. With contemporary ensembles, Steve has been a member of Red Fish Blue Fish and San Diego New Music. Steve has performed with Band on a Can All-Stars, Eighth Black Bird, the International Contemporary Ensemble, and San Francisco Chamber Music Players. Steve's recordings are on Bridge, Vortex, and Mode Labels, and is the on-screen talent for the "Standard of Excellence" snare drum series. Steve's groundbreaking vibraphone etudes are published by Bachovich Music Publications. As an extra percussionist, Solook regularly performs with the Buffalo Philharmonic Orchestra and Slee Sinfonietta.  With the NPO Cultures in Harmony, Steve has taught and performed in Cameroon, Egypt, Mexico, and Papua New Guinea.  As a dance accompanist Dr. Solook has toured with the Jose Límon Dance Company.  Steve is currently a staff accompanist for the University at Buffalo Dance Department. He received his Doctorate of Musical Arts degree from the University of California San Diego, after attending Mannes College, and Ithaca College. His current research is on dyslexia and dysgraphia relating to musical notation and music education.