"A Musical Feast" at Westminster Presbyterian Church, Buffalo
734 Delaware Avenue, Buffalo, NY 14209  WPCBUFFALO.ORG
MUSIC and ART December 2020
The Rev. Dr. Thomas H. Yorty, Pastor
Poem: "Cinque Terre" by Dr. Thomas H. Yorty
Jennifer Koury, Watercolor, 15 x 22 1/4, 2020
Inspired by Darius Milhaud (1892-1974): Quatuor à Cordes No.1, Op. 5 (1912)
I.   Aube Triomphante Sur La Sainte Victoire
II.  Voyages de Rêve en Provence
III.  La Danse Vibrante du Soleil
jenniferkouryart.com. paintings are for sale
Quatuor à cordes No.1, Op. 5 (1912) Darius Milhaud (1892-1974):
à la mémoire de Paul Cézanne
I.  Rythmique
II. Intime, contenu
III. Vif, très rythmé
Shieh-Jian Tsai, 1st violin
Antoine Lefebvre, 2nd violin
Anya Shemetyeva, viola
Feng Hew, cello
Prelude and Gigue, from Suite No. 1 in G Major
J.S Bach (1685 – 1750)
Lento doloroso, sempre cantabile, from Four Pieces for Violoncello
Tania Leon (1943 – )
#tinyefforts2020  Alice H. Jones (1982 – )
1. Shadow boxing
2. Sun shower
Natasha Farny, cello

Quatuor à cordes No.1, Op. 5 (1912) Darius Milhaud (1892-1974)
à la mémoire de Paul Cézanne
I. Rythmique
II. Intime, contenu
III. Vif, très rythmé
Shieh-Jian Tsai, 1st violin
Antoine Lefebvre, 2nd violin
Anya Shemetyeva, viola
Feng Hew, cello
Prelude and Gigue, from Suite No. 1 in G Major
J.S Bach (1685 – 1750)
Lento doloroso, sempre cantabile, from Four Pieces for Violoncello
Tania Leon (1943 – )
#tinyefforts2020  Alice H. Jones (1982 – )
1. Shadowboxing
2. Sunshower
Natasha Farny, cello
Tiny Efforts, Quarantine Project Summer 2020
Alice H. Jones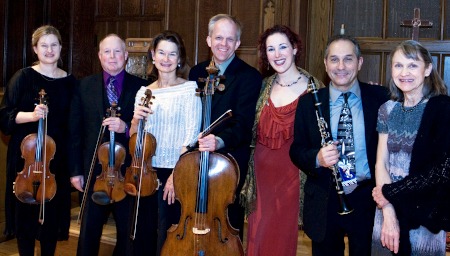 Sunday, February 23, 2020 @ 7:30pm
General admission: FREE
Donation to: Westminster Presbyterian Church
724 Delaware Avenue Buffalo, NY 14209 716-884 9437
"A Musical Feast"
Founder and Creative Director: Charles Haupt
General Manager: Irene Haupt
Salvatore Andolina and Friends
Salvatore Andolina, clarinet
Claudia Hoca, piano
Tiffany DuMouchelle, soprano
Philharmonic Quartet:
Diana Sachs, violin
Alan Ross, violin
Anya Shemetyeva, viola
David Schmude, cello
Sonata in E-flat, Op. 120 No.2 for clarinet and piano
Johannes Brahms (1839-1897)
Allegro amabile
Allegro appassionato
Andante con moto
Shepherd on the Rock
Franz Schubert (1797-1828)
Tiffany DuMouchelle soprano
Salvatore Andolina clarinet
Claudia Hoca piano
Intermission
Clarinet a la King
Eddie Sauter (1914-1981)
Salvatore Andolina, clarinet,
Claudia Hoca, piano
Sextet for clarinet, piano, and string quartet (1988)
Dick Hyman (1927)
Allegretto
Andante
Allegretto
Allegro
Salvatore Andolina, clarinet
Claudia Hoca, piano
Diana Sachs, violin
Alan Ross, violin
Anya Shemetyeva, viola
David Schmude, cello


"Program is funded by the New York State Council on the Arts with the support of Governor Andrew Cuomo and the New York State Legislature; administered by Arts Services Initiative of Western New York."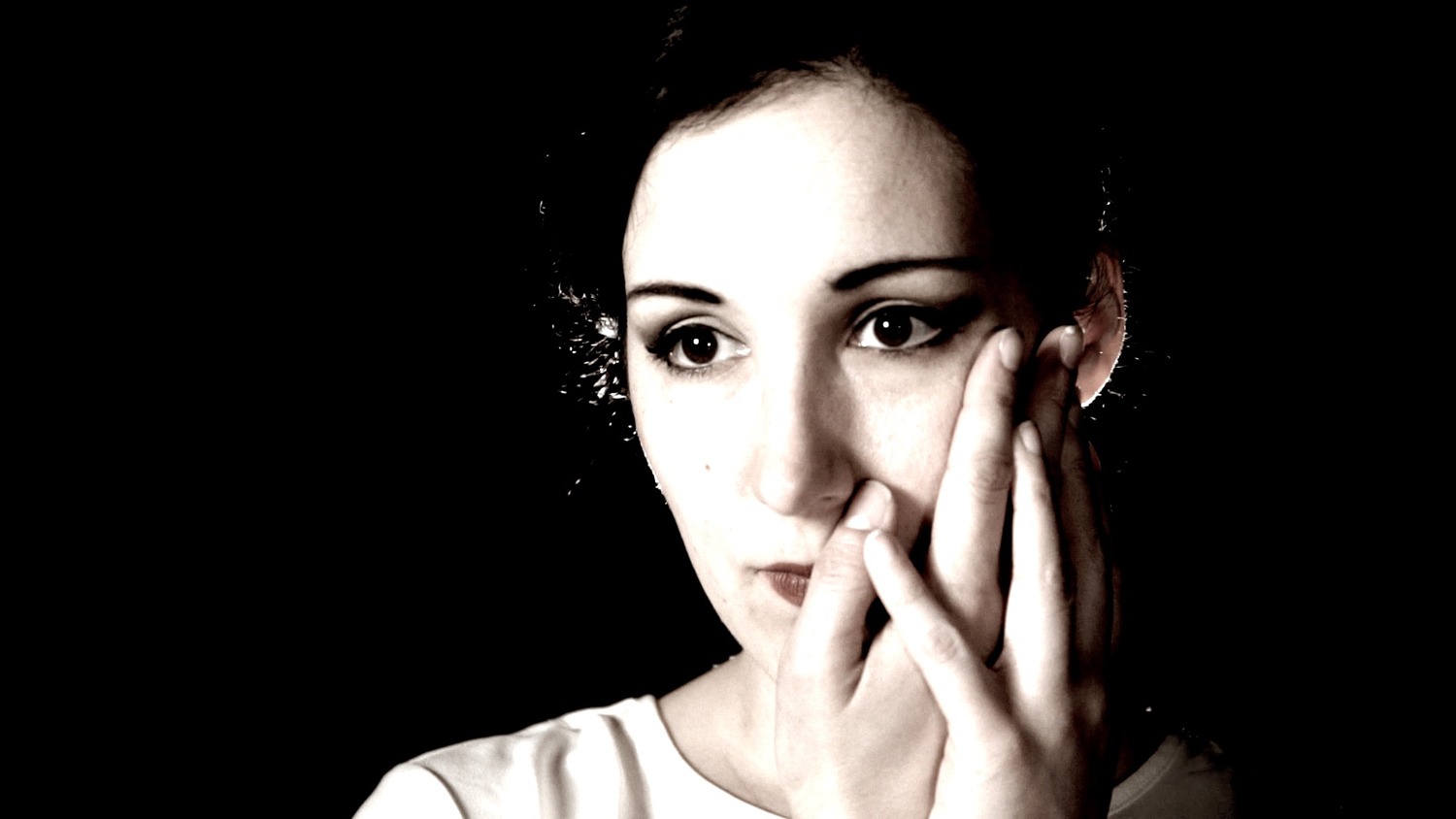 Friday, November 8 – 2019 @ 7:30pm
Montante Cultural Center Canisius College,
2001 Main St, Buffalo, NY 14208
Call: (716) 888-2542 Canisius Fine Arts Dept
www.canisius.edu/artscanisius.
General admission tickets are $15,
$5 for students, faculty, and staff
 Sonata No. 2, TWV 40 : 102
Georg Philipp Telemann (1681-1767)
I. Largo
II. Allegro
III. Affettuoso
IV. Vivace
Diane Hunger, soprano saxophone
Wildy Zumwalt, soprano saxophone
Après un rêve
GABRIEL FAURÉ (1845 – 1924)
Vocalise-Étude en forme de Habanera
MAURICE RAVEL (1875 – 1937)
Brazileira from Scaramouche Suite (arr. N. Farny)
DARIUS MILHAUD (1892 – 1974)
Sonata No. 1 for Violin and Piano, op. Posthume
(Arr. for cello by C. Proske)
MAURICE RAVEL (1875 – 1937)
Natasha Farny, cello
Eliran Avni, piano
Seven Romances on Poems by Alexander Blok,
opus 127 (1967)
Dmitri Shostakovich (1906-1975)
1. Song of Ophelia
2. Gamayun, the Bird of Prophecy
3. We Were Together
4. Gloom Enwraps the Sleeping City
5. The Storm
6. Secret Signs
7. Music
Tiffany Du Mouchelle soprano, Feng Hew cello,
Shieh-Jian Tsai violin, Claudia Hoca piano
Friday, Oct. 4- 2019 @ 8pm
Burchfield Penney Art Center
$ 20 General admission, $ 10 members, $ 5 students
www.BurchfieldPenney.org
at SUNY Buffalo State
1300 Elmwood Avenue, Buffalo , NY 14222
878-6011 or burchfld@buffalostate.edu
Partita No. 5 in G major BWV 829 (1730)
J.S.Bach (1685-1750)
1. Preambulum
2. Allemande
3. Corrente
4. Sarabande
5. Tempo di Minuetto
6. Passepied
7. Gigue
Father Sean Duggan, Piano
I Never Saw Another Butterfly (1996)
Lori Laitman (b, 1955)
1. The Butterfly
2. Yes, That's the Way Things Are
3. Birdsong
4. The Garden
5. Man Proposes, God Disposes
6. The Old House
Tiffany DuMouchelle, Soprano
Wildy Zumwalt, Alto Saxophone
Poems by Pavel Friedmann, Koleba, Anonymous and Franta Bass
Suite for solo cello (1926) Gaspar Cassado (1897-1966)
1. Preludio-Fantasia
2. Sardana (Danza)
3. Intermezzo e Danza Finale
Feng Hew,Cello
Sonata No. 3 in g minor, BWV 1029 (14′)
J.S. Bach (1685-1750)
1. Vivace
2. Adagio
3. Allegro
Diane Hunger, Tenor saxophone
Father Sean Duggan, Piano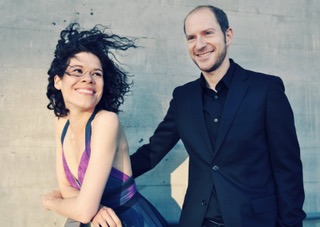 Saturday May 18, 2019 @ 8pm
A Musical Feast
The Hayley-Laufer Duo
Drawn to the new, the audacious, and the complex, the Hayley-Laufer Duo challenges the boundaries of voice-and-piano composition by commissioning exciting young artists while cultivating a core repertoire of twentieth and twenty-first century masterworks. Their decade-long collaboration has brought them to the USA, Canada, Europe and South America, and traversed centuries of song repertoire with an emphasis on the electrifying music of today. The Hayley-Laufer Duo returns with a second concert collecting revolutionary contributions to the 21st-century art song repertoire. Featuring world premieres of works by Colombian composer Camilo Méndez, Venezuelan composer Freddy Flores Ávila, and Canadian composer Anthony Tan explore the outer reaches of the technical and expressive possibilities of the Lied genre. The program also features Jonathan Harvey's monumental and mesmerizing Nachtlied, alongside newly minted works for soprano and piano by UB composers Matthew Chamberlain, Roberto Azaretto, and Ka-Shu (Kenneth) Tam.
A Manual of Qualities (2016)* Anthony Tan (b.1979)
Phoenix Hairpin I (2018)* Ka-Shu Tam (b. 1991)
Projection of historical images
Verfremdungen M (2) (2015-18)* Roberto Azaretto (b. 1975)
Uslar/Gorong (2019)* Camilo Méndez (b. 1982)
Intermission
Nachtlied (1984) Jonathan Harvey (1939-2012)
Nicole Caruana, dancer, choreographer
Board Games. (2109)* Matthew Chamberlain (b. 1990)
*=world premiere
This performance is made possible by a collaboration between A Musical Feast and UB's Creative Arts Initiative (CAI). It is the culmination of the artist Spring 2019 CAI residency. For information regarding other residency events see www.buffalo.edu/cai.
ABOUT THE CREATIVE ARTS INITIATIVE 
The Creative Arts Initiative (CAI) is a university-wide initiative dedicated to the creation and production of new work upholding the highest artistic standards of excellence and fostering a complementary atmosphere of creative investigation and engagement among students, faculty, visiting artists, and the community.
Through its Artist-in-Residence program and its innovative, interdisciplinary offerings for students, CAI is raising the profile of UB and Buffalo in world of artistic expression and revitalizing our proud tradition as a leader in contemporary art.
DOROTHEA HAYLEY
Dorothea Hayley has been a soloist with the Vancouver Symphony, the Bourgas Symphony, the Allegra Chamber Orchestra and Ca-priccio Basel. She has performed in festivals such as the Happening Festival, Gulangyu Piano Festival, Performer's Voice Symposium, New York City Electroacoustic Music Festival and the Atempo Festival of Caracas, and with organizations like the SMCQ, Chants Libres, CIRMMT, Codes d'accès, Vancouver New Music, the Little Chamber Music Series That Could and the Land's End Ensemble. Dorothea recently completed an artist residency at the Banff Centre, and was a visiting artist at the Afghanistan National Institute of Music. Dorothea holds a Doctor of Music degree from Université de Montréal, and teaches voice at Vancouver Community College. She is the Artistic Co-Director of the Blueridge Chamber Music Festival.
MANUEL LAUFER
Manuel Laufer has presented world premieres at Merkin Hall, Le Poisson Rouge, Bang on a Can, June in Buffalo, and Festival Atem-po (Caracas and Paris). He has concretized extensively playing contemporary chamber music, performing canonic works by compos-ers including Babbitt, Cage, Crumb, Lachenmann, and Xenakis in addition to newly commissioned repertoire. His solo work champions modernist voices from his native Venezuela, placing particular emphasis on composer Diógenes Rivas. "Also an enthusiastic performer of traditional repertoire, Manuel has performed with orchestras on both sides of the Atlantic, and appears yearly in the Blueridge Chamber Music Festival. He holds degrees from McGill University and University of California, Irvine, and received a Ph.D. in Piano Performance from NYU Steinhardt, where he currently serves as Director of Collaborative Piano."
NICOLE CARUANA
Nicole Caruana, performer/choreographer at UANA DANS, was born in Clarence, New York, a community just outside of Buffalo, in 1996. Her parents enrolled her in local jazz classes to facilitate her blissful restlessness. She began her formal training at The Conservatory of Dance at Purchase College under the direction of Nelly van Bommel. To further her studies, she has attended San Francisco Conservatory of Dance, London Contemporary Dance School, The American Dance Festival, Arts Umbrella Summer Dance Intensive, B12 Workshops, and has studied Gaga intensively in Tel Aviv. She has most recently performed the works of Ohad Naharin and Doug Varone. In 2016 she was in creative process for a new work by LeeSaar The Company and an immersive theater production "All That I Can" by Punchdrunk company members. In 2017, UANA DANS was established as Nicole's creative home and outlet to share choreographies at home and abroad. Her work "arba" was awarded first prize at The International Competition for Choreographers in Hannover, Germany. Since the company's inception, they have been invited to perform in Germany, Denmark, Spain, Greece, and New York. She is excited to be commissioned to create new works for Scapino Ballet in Rotterdam, and Canadian Contemporary Dance Theater in Toronto as part of their 2019 season.
A Musical Feast presents
Celestial Journey
February 7, 2019 – Panel Discussion
Click the link below for discussion details and times
February 8, 2019- 8 p.m.
Pre-concert talk with Roland Martin
and Dr. Peter Reczak 7:30 p.m.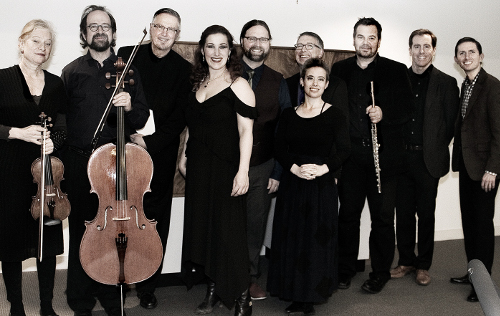 Surge Virgo
Isabella Leonarda (b.1620-1704)
Tiffany DuMouchelle, soprano
Roland Martin, harpsichord
The Freudig Singers of Western New York
Song to the Moon (Rusalka)
Antonín Dvořák (b.1841-1904)
Tiffany DuMouchelle, soprano
Roland Martin, piano
Nun ist aber der einzelne Ton beziehungslos (2018)
Ruth Wiesenfeld (b.1972)
The single tone however is unrelated
commissioned by Paul Simini
Warner Iversen, theorbo
INTERMISSION
Unless Acted Upon
Caroline Mallonee (b. 1975)
I. Newton's Cradle
II. Friction
III. Gravity
IV. Push
V. Bounce
VI. Magnetism
(Movements played without pause)
Barry Crawford, flute
Kathrein Allenberg, violin
Andrew Seigel, clarinets
Jonathan Golove, cello
Eric Huebner, piano
Toucher (1973)
Vinko Globokar (b. 1934)
Steve Solook, speaking percussionist with projection of text
The Bird of Dawning
(Shakespeare: Hamlet act1, scene1)
Roland Martin (b. 1955)
Tiffany DuMouchelle, soprano
Kathrein Allenberg, violin
Roland Martin, piano
Trio Sonata #1
Giovanni Battista Pergolesi (b.1710-1736)
I. Moderato
Kathrein Allenberg, violin
Shannon Steigerwald, violin
Roland Martin, harpsichord
Jonathan Golove, cello
Friday October 5th 2018 @ 8pm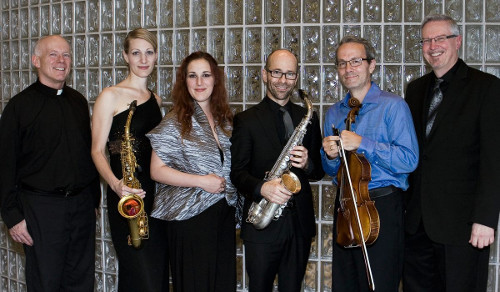 Program

Italian Concerto in F major, BWV 971 (1735)
JS Bach (1685-1750)
1. Allegro
2. Andante
3. Presto
Father Sean Duggan piano
Sonata in G major BWV 1021*
J.S. Bach (1685 – 1750) 10 min
Arranged for saxophone and piano
1. Adagio
2. Vivace
3. Largo
4. Presto
Diane Hunger alto saxophone   Father Sean Duggan  piano
Chaconne for solo viola, from Partita No. 2 in D Minor, BWV 1004,
J.S. Bach (1685 – 1750)
David Rose viola
INTERMISSION
Timepiece for alto saxophone and pre-recorded music
Cindy McTee (b. 1953)
Diane Hunger alto saxophone
Praeludium in C sharp major J.S. Bach (1685 – 1750)
Wildy Zumwalt   soprano saxophone
Diane Hunger alto saxophone
Bach Gamba Sonata No. 1 in G Major, BWV 1027
J.S. Bach (1685 – 1750)
1. Adagio
2. Allegro ma non tanto
3. Andante
4. Allegro moderato
Father Sean Duggan piano
David Rose viola
Cantata 179 V J.S. Bach (1685 – 1750
Tiffany DuMouchelle soprano
Diane Hunger Wildy Zumwalt alto saxophone
Ron Martin piano
Friday, February 2, 2018 @ 8PM
Poetry by Pablo Neruda: Coleccion Nocturna
Dmaathen (1976), Iannis  Xenakis  (1922-2001)
Steve Solook, percussion        Megan Kyle, oboe
Paul Todaro reading Pablo Neruda poem:
Coleccion Nocturna
Coleccion Nocturna (1983), David Felder (1953)
Jean Kopperud, clarinet          Eric Huebner, piano
INTERMISSION
The Lilies of the Field (2013), Stuart Saunders Smith (b. 1948)
Tiffany Du Mouchelle, soprano Stephen Solook, vibraphone
Études for Piano (Book 2) (1988–1994)), György Ligeti (1923 – 2006)
Eric Huebner piano
Glamb Borong
Fém
Vertige
Der Zauberlehrling
En Suspens
Entrelacs
L'escalier du diable
Coloana infinită
Coloana infinită

Coleccion Nocturna for clarinets, piano and 4-channel tape, is a work of haunting isolation and nostalgia that is loosely based on the Neruda poem of the same name. It is a set of five "variations" on what Felder calls, "a wholly self-contained musical object" from his older piano work called Rocket Summer. The "theme" never seems to be presented clearly in its entirety, but what is clear is that diatonic fragments are heard trying to poke their way through five contrasting, modernistically surreal textures. The variations mirror a kind of electrifying tension as well as a crystallization of emotions, 19 minutes of foremost constantly changing musical perspectives, which despite the technical demands speak with an extraordinary directness.
moderecords.com
Friday, April 13, 2018 @ 8 PM
Second Sonata for violin and piano Charles Ives 1874,-1954
I. Autumn
II. In the Barn
III. The Revival
Claudia Hoca, piano
Charles Castleman, violin
Sonata in G minor for Cello and Piano, Op. 19
Sergei Rachmaninoff (1873-1943)
I. Lento – Allegro moderato – Moderato
II. Allegro scherzando
III. Andante
IV. Allegro mosso – Moderato
Claudia Hoca, piano
Arie Lipsky, cello
---
October 20, 2017 @ 8 PM
Un grand sommeil noir, song for voice & piano (1906)
Edgar Varese (1883- 1965)
Tiffany DuMouchelle soprano, Anne Kissel piano
Ineffable for violin (2016)
Ricardo Zohn-Muldoon (1962-)
Hanna Hurwitz, violin
Seek Water Poetry J.M. Rumi ( 1207-1273)
Translation & Music Zahra Partovi
Tiffany DuMouchelle, soprano
Steve Solook, bells
Vincent FitzGerald, voiceover
Actor: Naho Taruishi
Cinematography: Paul Reuter
Filmed in White Sands, New Mexico
For Nils Vigeland
a film by Zahra Partovi © 2017
Seek Water Film was Produced for "A Musical Feast"*

Feldman Sings
A Film by Zahra Partovi & Chris Villars
Sound recording used by
kind permission of Howard Skempton
Cinematography by Paul Reuter
Editing by Ashley Vanderbeck
Special thanks to Lars Werdenberg
© Chris Villars 2017
Ständchen D 889 (1826) Franz Schubert (1797 – 1828)
Hark Hark, the Lark
Natasha Farny cello, Anne Kissel piano
INTERMISSION
Signs, Games and Messages (1961-2005) György Kurtág (1946-)
Postcard to Anna Keller
Doloroso
Perpetuum mobile
Népdalféle
Hommage à J.S.B.
In memoriam Blum Tamás
The Carenza Jig
Hannah Hurwitz violin

Cantata for Coleridge (2017) Ann Colley
Samuel Taylor Coleridge at the Burchfield Penney
Art Center, Elmwood Avenue
Honoring retirement of: Ann C. Colley, SUNY Distinguished Professor from Buffalo State College
Voice: Tiffany DuMouchelle, soprano
Actor Paul Todaro
Narrator: Dr. Anthony Chase, Assistant Dean and member of the School of Arts and Humanities
Frauenliebe und Leben, op. 42 (1840) Robert Schumann (1810 – 1856)
I. Seit ich ihn gesehen
II. Er, der Herrlichste von allen
III. Ich kann's nicht fassen, nicht glauben
IV. Du Ring an meinem Finger
Natasha Farny cello Anne Kissel piano
Friday May 12, 2017
Hildegard's Dream (1994) Alejandro Vinao (b.1951)
Tiffany Du Mouchelle soprano
Paul Hembree, electronics
Sonata No. 2, Op. 19 (Sonata-Fantasy). Alexander Scriabin (1872-1915)
I. Andante
II. Presto
Dmitri Novgorodsky, piano
Tzigane Maurice Ravel (1875-1937)
David Colwell, violin Dmitri Novgorodsky, piano
Intermission
Justice: The Songs (1999-2016) by Roger Reynolds (b. 1934)
Tiffany Du Mouchelle soprano
Steve Solook percussion
Paul Hembree live electronics
$20/$10 Burchfield Penney members. Student's 5.-Phone: 878-6011 or visit: burchfieldpenney.org
Justice:
Written for actress, soprano, percussionist, multichannel computer sound and real-time surround sound, "Justice" is based on the Greek tragedy of Clytemnestra and Agamemnon. The text was adapted from "Aeschylus and Euripides." All three performers-actress, soprano and percussionist – portray aspects of Clytemnestra's character as she contemplates her husband's return from the Trojan War and his subsequent death at her hand in retribution for the death of their daughter, Iphigenia.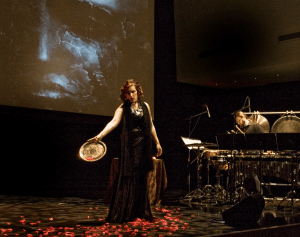 JUSTICE is a musical/dramatic presentation of Clytemnestra's primary scenes from my text: The Red Act (itself drawn from plays of Euripides and Aeschylus). The whole is divided into three parts:
I] Sacrifice centers on Agamemnon's decision to kill Ipghigenia in order that the Greek fleet be freed to sail on to Troy and exact its revenge for the abduction of Helen. Clytemnestra is at first incredulous, but gradually accepts this inevitability and warns Agamemnon of dire consequences.
II] Absence portrays Clytemnestra's emotions during her husband's ten years away, and the conflicting responses that his return arouses in her.
III] Nightmare and Judgement is the longest part. It addresses both the murder of Agememnon and also Clytemnestra's proud defiance as she portrays what she has done and why.
-Roger Reynolds
In the original conception of this work, Clytemnestra was conceived as a tripartite being, performed by actress, soprano, and percussionist. The actress lines most directly articulated and closely related to speech, the soprano a lyrical extension of those lines, and the percussionist further amplifying and articulating the thoughts, words and actions of the actress and soprano. Here, in Justice Arias, the actress and soprano roles are fused together, but the compositional divisions are still present in the various forms of articulation.
-Tiffany Du Mouchelle
Friday February 3, 2017 8pm
Saturday February 4, 2017  8pm
Artistic Director:  Charles Haupt
Executive Director: Irene Haupt
"A Musical Feast," in collaboration with the Burchfield Penney Art Center and the University at Buffalo Creative Arts Initiative, presents:
The Faust Project: A Staged Reading with Live Music of Goethe's Faust
Adapted and Directed by Neil Wechsler
Original Score by Nathan Heidelberger
Vincent O'Neill as Mephistopheles
David Oliver as Faust
Kurt Guba (Multiple Roles)
Josephine Hogan (Multiple Roles)
Emlyn Johnson, flute
Megan Kyle, oboe
David Wegehaupt, saxophone
Katie Weissman and Erica Snowden, cello
John Smigielski, percussion
Matthew Chamberlain, conductor
A staged reading with live music of selected scenes from both parts of Goethe's Faust. Director Neil Wechsler has adapted the scenes, condensing Goethe's original work into an eighty-minute presentation. Nathan Heidelberger has composed a new chamber score, playing off the rich history of Faust-inspired music. The scenes encompass the entire arc of Goethe's masterpiece to capture the pitfalls, triumphs, and ambiguities of human striving.
Tickets: Call 716-878-6011
$10 Burchfield Penney members $20 "not yet" members
& 5.- students
Friday October 14, 2016
Black (2008) Marc Mellits (1966)
Diane Hunger Wildy Zumwalt Alto Saxophones
Kinderszenen , Op.15 (Scenes from Childhood)
Robert Schumann (1810-1856)
Jonathan Golove, cello Amy Williams,
Kreisler's Coat for cello and piano (2011) Jonathan Golove (b.1966)
Jonathan Golove, cello Amy Williams , piano
Cello Solo, Opus 31 Egon Wellesz (1885-1974)
Jonathan Golove cello
INTERMISSION
Syrinx (1913) Claude Debussy (1862-1918)
(originally for flute)
Wildy Zumwalt, Alto Saxophone
Sonata for Violin and Piano No. 3 in C minor, Op. 45 (1887)
Edvard Grieg (1843 –1907)
I. Allegro molto ed appassionato
II. Allegretto espressivo alla Romanza
III. Allegro animato – Prestissimo
David Colwell violin , Dmitri Novgorodsky piano
Friday May 13, 2016 @ 8:00pm
"Nocturne" (1911) Lili Boulanger (1893-1918)
Claudia Hoca piano Jonathan Golove cello
Three Pieces (Trois pièces) for cello and piano (1914)
Nadia Boulanger (1887-1979)
Poeme, Op. 25, (1896) Ernest Chausson.(1855-1899)
Claudia Hoca piano, Charles Castleman violin
Intermission
Praxis (2016) Moshe Shulman (1978)
Moshe Shulman bandoneon, Jonathan Golove cello
Sonata for violin and piano No2 in g major (1927-1929)
Maurice Ravel (1875-1937)
Allegretto (sol majeur)
Blues. Moderato (la bémol majeur)
Perpetuum mobile. Allegro (sol majeur)
Claudia Hoca piano Charles Castleman violin

Friday, February 12, 2016 @ 8pm
Partita in A minor J.S.Bach
Allemande (1685-1750)
Corrente
Sarabande
Bourée angloise
Lindsey Goodman, flute
Forever and Sunsmell (1942)
Tiffany Du Mouchelle, soprano
Stephen Solook, percussion
Recitation #11 and #13 (1977-1978)
Georges Aperghis (b. 1945)
Tiffany Du Mouchelle, soprano
Cineshape 4 (2015) Amy Williams  (b. 1969)
Amy Williams, piano
Intermission
Two Preludes (from: The Well-Tempered Clavier) J.S. Bach
Amy Williams, piano
4 Lieder Clara Schumann (1819-1896)
Er ist gekommen – (1841) op. 12, no. 2
Liebst du um Schönheit – (1841) op. 12, no. 4
Sie liebten sich beide – op. 13, no. 2, (1842)
Mein Stern (1848)
Tiffany Du Mouchelle, soprano
Amy Williams, piano
Breath (2001) Stuart Saunders Smith (b. 1948)
Tiffany Du Mouchelle, soprano
Stephen Solook, percussion
First Lines (2006) Amy Williams
Lindsey Goodman, flute
Amy Williams, piano
Friday November 13, 2015 @ 8pm
Burchfield Penney Art Center Fall Launch Festival
 Artistic Director: Charles Haupt
General Manager: Irene Haupt
Water (2015)   Arranged by Daisy Wu
"Shall We Gather at the River" (by Charles Ives),
and "High Mountains and Flowing Water" (Classic Chinese music). R
emix and playing on Guzheng by Daisy Wu
Video "The Way of Clinton Brook" by Robert John Holland 2015
SPYR (2015)
Video by Christoph Lemmen
Ruth Wiesenfeld, composition
Mike Flemming, viol
Filmed at St. Johannes Evangelist Kirche, Berlin Germany
Dame Gothel (2015)
Music, Video and Performance
By Colleen Marie
Intermission
"Crimson Sky" by Joshua Smith. Played on the shakuhachi Japanese bamboo flute.
"Where Ghosts Meet Dawn" John Bacon 2010
Vibraphone, tuned gongs, cowbells.
Video "Fomalhaut" Olivier Pasquet (2015)
Divertimento for String Trio in E-flat Major, K. 563 W. A. Mozart (1770-1791)
I. Allegro
II. Adagio
VI. Allegro
Fredonia String Trio
David Colwell, violin David Rose, viola Natasha Farny, cello
Passacaglia in G minor on a theme by Handel Johan Halvorsen (1864-1935)
David Colwell, violin Natasha Farny, cello
Friday May 8, 2015 @ 8 PM
Program Notes
Julia Bentley, mezzo-soprano
Kuang-Hao Huang, piano
Concert is dedicated to poet Robert Creeley
The Long Road (1996) Robert Creeley ( 1926-2005)
So quite here (1996) Robert Creeley (1926-2005)
Buffalo Evening (2006)
Edges
Spring Light
Goodbye
Air (2011) Ruth Wiesenfeld (1972)
Mezzo-soprano Julia Bentley
4 French Songs (1901) Charles Ives (1874-1954)
Qu'il m'irait bien
Chanson de Florian
Rosamunde
Mezzo-soprano Julia Bentley Pianist Kuang-Hao Huang
Ruins (2014) Ruth Wiesenfeld (1972)
Mezzo-soprano Julia Bentley
Apparition (1979) George Crumb (1929)
Elegiac Songs and Vocalises for soprano and amplified piano
The Night in Silence under Many a Star
Vocalise 1: Summer Sounds
When Lilacs Last in the Dooryard Bloom'd
Dark Mother Always Gliding Near with Soft Feet
Vocalise 2: Invocation
Approach Strong Deliveress!
Vocalise 3: Death Carol
Come Lovely and Soothing Death
The Night in Silence under Many a Star
Mezzo-soprano Julia Bentley Pianist Kuang-Hao Huang
Intermission
Vent (2014)
Choreographer and Performer: Melanie Aceto
Vent, a solo inspired by her work with Turkish vocalist Esin Gunduz, is an exploration of our vulnerable and expressive relationship with breath. Using consonant sounds, Melanie uses breath as propulsion and restriction, creating a score that both accompanies and drives her movement.
Open – Close (2006) Ruth Wiesenfeld (1972)
Moshe Shulman, accordion, Julia Bentley, mezzo soprano
Text including quotes from Stéphane Mallarmé Un Coup De Dés
Lieder, Opus 14 (1904) Artur Schnabel (1882 – 1951)
Frühlingsdämmerung
Octoberlied
Abendständchen
Abendlandschaft
Hyacinthen
Heisst es viel dich bitten?
Die Sperlinge
Mezzo-soprano Julia Bentley Pianist Kuang-Hao Huang
---
Friday March 13,  2015  @ 8 PM
Elegy (1940)  Elliott Carter (1908 –2012)

Jonathan Golove cello, Amy Williams piano
Figment No. 2  (2001)
Elliott Carter (1908-1912 )
(Remembering  Mr Ives)
Jonathan Golove cello
Falling (2012) Amy Williams (1969)
Amy Williams
Amy Williams: new work (2015)
Jonathan Golove cello, Amy Williams, piano
Intermission
 Words and Music (1961)
Radio play by Samuel Beckett (1906-1989)
with music by Morton Feldman (1926-1987)
WORDS ("Joe") Vincent O'Neill
MUSIC ("Bob") the musical ensemble
CROAK  David Oliver
Director Neil Wechsler
Jan Williams conductor
Emlyn Johnson flute
Kerrith Livengood flute
Shieh-Jian Tsai violin
Virginia Barron viola
Jonathan Golove cello
John Bacon  vibraphone
Amy Williams piano
Jonathan Hepfer musical adviser
Friday November 14, 2014 8 PM

"Phenix" (1982)   Francois-Bernard Mache (b. 1935).
Tom Kolor, vibraphone
Sonata for Violin and Piano in E-flat, Op. 12, No. 3 (1798)
L.van Beethoven (1770–1827)
Allegro con spirito
Adagio con molto espressione
Rondo: Allegro molto
David Colwell violin,  Dmitri Novgorodsky  piano
INTERMISSION
One Movement (2014)   Charles Terranova (1992)
Fanfare (2003)    Everette Minchew (b. 1977)
Shift (2011)     Michael Lanci   (b. 1986)
Födelsedag Musik (1987)     Erland von Koch (1910 – 2009)
1.Andantino  espressivo  II. Molto vivace
Klang Par2
Wildy Zumwalt, alto saxophone    Diane Hunger, alto saxophone
Mythes, Op. 30 (1915)  Karol Szymanowski (1882-1937)
La Fontaine d'Arethuse
Narcisse
Dryades et Pan
David Colwell violin,  Dmitri Novgorodsky   piano
Friday, March 14 2014@ 8 PM
A Very Short Trumpet Piece (1986) Morton Feldman (1926-1987) Daniel Bassin, trumpet
Clapping Music for Two Performers (1972) Steve Reich (1936)
John Bacon, Tom Kolor
Partita No. 5 in G major BWV 829 (1730) J.S.Bach (1685-1750)
Preambulum
Allemande
Corrente
Sarabande
Tempo di Minuetto
Passepied
Gigue
Dmitri Novgorodsky, piano
Intermission
Piano Trio No. 1 in D minor, Op. 49 (1839) Felix Mendelssohn (1809 – 1847)
Molto Allegro agitato
Andante con molto tranquillo
Scherzo. Leggiero e vivace
Finale. Allegro assai appassionato
Sheh-Jian Tsai, violin Feng Hew, cello Dmitri Novgorodsky , piano
Benefit Concert for pianist Claudia Hoca
Friday, September 27 2013 at 7:30 PM
With the Camerata di Sant' Antonio,
Christopher Weber, Music Director
 Tickets:
$35 General Admission Seating in the Peter and Elizabeth C. Tower Auditorium
$50 Angel Seating in the Peter and Elizabeth C. Tower Auditorium
$20 Simulcast viewing of the concert from the Reception Area
Available online through PayPal Click:
http://www.burchfieldpenney.org/events/event:09-27-2013-7-30pm-a-musical-feast-benefit-co ncert-for-claudia-hoca/
Program
Cello Sonata (1915) Claude Debussy (1862-1918)
Jonathan Golove, cello – Ana Vafai, piano
I. Prologue: Lent, sostenuto e molto risoluto
II. Sérénade: Modérément animé
III. Final: Animé, léger et nerveux
Contrasts (1938) Bela Bartok (1881-1945)
John Fullam, clarinet – Alison D'Amato, piano – Amy Glidden, violin
Invocation and Dance (1960) Warren Benson (1924-2005)
Diane Hunger, soprano sax – Wildy Zumwalt , alto sax – John Bacon, hand clapper
Calmly – freely
With Good Humor
resAUnance
Esin Gunduz, Michael McNeill, John Bacon
I. Offering
II. Migration
III. Interlude
INTERMISSION
Oboe Quartet in F Major K 370 (1781) Wolfgang Amadeus Mozart ( 1756-1791
Pierre Roy, oboe – Antoine Lefebvre violin
Valerie Heywood, viola – Jonathan Golove, cello
Allegro
Sonata For Violin Solo Nr. 3 in D minor ("Ballade") Op 27 (1929)
Eugene Ysaye ( 1881-1945 )
Charles Castleman, violin
Prelude and Fugue- Astor Piazzolla (1921-1992)
from Tes pieza para orquesta de camara (1972)
Camerata di Sant' Antonio Christopher Weber, conductor
ENCORE: Libertango (1974)- Astor Piazzolla (1921-1992)
Christopher Weber conductor, local and Buffalo Philharmonic musicians
Friday, October 11, 2013 @ 8PM
Liaison (2013) Concept: Megan Beugger (1987)
Choreographic Collaboration: Melanie Aceto and Megan Beugger

Performer: Melanie Aceto
Design and construction: Tom Tucker and Gary Casarella
Premiered June 8th at "June in Buffalo" University at Buffalo
Reflets dans l'eau (1905) (5′) Claude Debussy (1862-1918)
Five Finnish Folksongs (c. 1917) (5'30") Oskar Merikanto, arr. (1868-1924)
I Hear My Love Call From Afar
One Rose Has Grown In The Valley
At The First Light Of Morn
Fair Maid, Thou Grewest Up
Do Not Cry, Dear Mother Robert Berkman, pianola
Notturno, Op. 32, No. 1 (1857) (7′ 50″) Friedrich Grützmacher (1832-1903)
Jonathan Golove, cello; Robert Berkman, pianola
"In Defence (2012) Moshe Shulman ( 1978)
tape, video by Moshe Shulman
Moshe Shulman viola
Melanie Aceto, Choreographer and performer
INTERMISSION
Piano Rag Music (1919) (3′) Igor Stravinsky (1882-1971)
Bashraf Bagdadi (c.1922) (3'45") Alexander Maloof (1886-1968)
Robert Berkman, pianola
A Gitte Nacht der Kolli ind dem Chusen (c. 1922) (4'15")
Samuel A. Perlstein (1884-1936)
Jonathan Golove, cello; Robert Berkman, pianola
Study No. 3b, from Boogie Woogie Suite (1948) (5′) Conlon Nancarrow (1912-1997)
Valses nobles et sentimental (1911) (14′) Maurice Ravel (1875-1937)
Robert Berkman, pianola
Peter & Elizabeth C. Tower Auditorium Burchfield Penney Art Center
at SUNY Buffalo State 1300 Elmwood Avenue, Buffalo , NY 14222
878-6011 or burchfld@buffalostate.edu
For the NAMM Oral History project. You can see the result at
www.namm.org/library/oral-history/bob-berkman

Friday, November 8 2013 @ 8PM
BIRTHDAY CONCERT FOR
Dr. David Felder
SUNY Distinguished Professor, Birge-Cary Professor in Music Composition, Director, Center for 21st Century Music, June in Buffalo; Artistic Director, Slee Sinfonietta Chamber Orchestra
Program
Another Face (1987) David Felder
Yuki Numata Resnick, violin
TweenerB (1991; 2013) David Felder
(world premiere) Tom Kolor, percussion
November Sky (1992) David Felder
for flute doubling piccolo, alto, and bass flutes
Emi Ferguson, flute
Commissioned by N.E.A. and Rachel Rudich
BoxMan (1986; 2013) David Felder (1953)
(world premiere of the version for horn) Adam Unswurth, horn
Intermission
Two Songs from the Third Watch (2013); a preview performance)
Insomnia (poem by Dana Gioia) David Felder
BuffaloEvening (poem by Robert Creeley)
flutes, Emi Ferguson, Jean Kopperud, clarinets,
Yuki Numata Resnick, violin, Virginia Barron viola,
Lauren Radnofsky cello,
Tom Kolor, percussion, piano/celeste, Oliver Hagen
Ethan Herschenfeld, bass voice
Dan Bassin, conductor
Shamayim (2006-8) Music by David Felder, image by Elliot Caplan