Up Coming Programs
We are looking forward to a new 2020-2021 season.
We also welcome again "The Robert and Carol Morris Center for 21st Century Music" University at Buffalo as Co-Sponsor.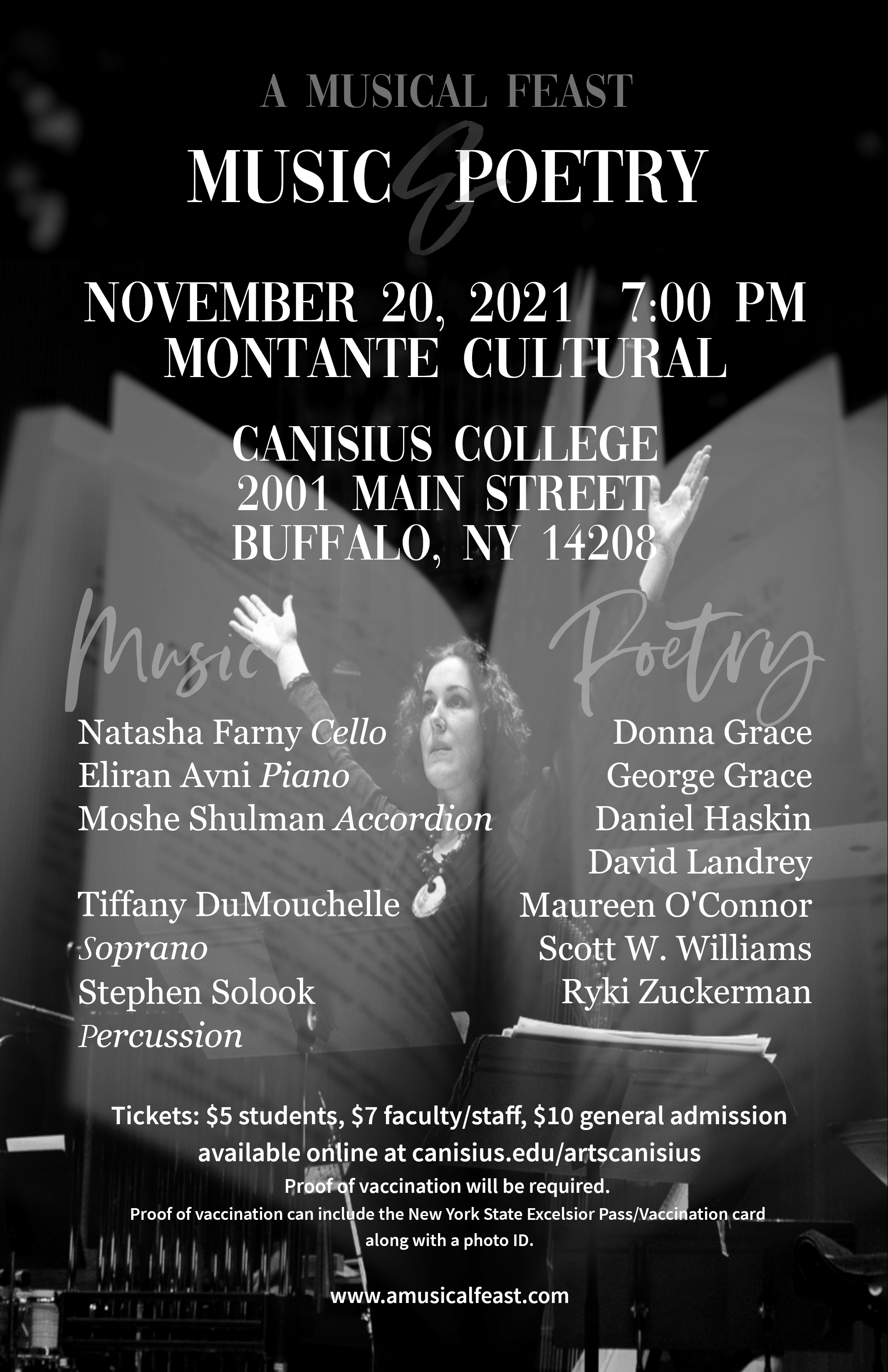 ---
Previously from A Musical Feast
Musical Feast
presents
Aurora Borealis Duo
Tiffany Du Mouchelle, Soprano
and Stephen Solook, Percussion
in
Reflections
Saturday, August 21, 2021 :: 8pm
at
Premier Cabaret

MusicalFare Theater
4380 Main St.  Amherst NY 14226
Located at: Daemen College
tickets: $ 15.00 Call: 716 839-8540 or website: www.musicalfare.com
Proof of vaccination will be required for . Proof of vaccination can include the New York State Excelsior Pass/Vaccination card along with a photo ID.
Program:
Reflections is a musical commentary of a year in silence. Throughout the pandemic, musical voices have been filtered through masks, electronic channels, and the radically shifted world. Here, we reflect on the isolation and celebrate the return of live music. Featuring new works by Stephen Solook and Tiffany Du Mouchelle created in response to the events of the past year, the program is a reflection of their musical growth during this time.
Elegy (Jules Massenet)
Invocaciones (Roberto Sierra)
Mvt. II      Al Hacedor de Nubes
La musique (Elliot Carter)
At the whim of the Current    (Jeff Heriott)
Davids Nimm    (Karin Rehnqvist)
Cançiones de la Otra América (Lewis Nielson)
Mvt. I  Alta Hora de la Hoche, Roque Dalton
Mvt. III Fábula de la Sirena y los Borrachos, Pablo Neruda
Vibraphone Etudes for Extending Technique (Stephen Solook)
The space between the stars  
(Tiffany Du Mouchelle with text from poetry by Daniel Haskin)
A Waltzer in the House (Milton Babbitt)
Yogah Samadhih (Joe Garrison)
"A Musical Feast" at Westminster Presbyterian Church, Buffalo
734 Delaware Avenue, Buffalo, NY 14209  WPCBUFFALO.ORG
MUSIC and ART December 2020
The Rev. Dr. Thomas H. Yorty, Pastor
Poem: "Cinque Terre" by Dr. Thomas H. Yorty
Jennifer Koury, Watercolor, 15 x 22 1/4, 2020
Inspired by Darius Milhaud (1892-1974): Quatuor à Cordes No.1, Op. 5 (1912)
I.   Aube Triomphante Sur La Sainte Victoire
II.  Voyages de Rêve en Provence
III.  La Danse Vibrante du Soleil
jenniferkouryart.com. paintings are for sale
Quatuor à cordes No.1, Op. 5 (1912) Darius Milhaud (1892-1974):
à la mémoire de Paul Cézanne
I.  Rythmique
II. Intime, contenu
III. Vif, très rythmé
Shieh-Jian Tsai, 1st violin
Antoine Lefebvre, 2nd violin
Anya Shemetyeva, viola
Feng Hew, cello
Prelude and Gigue, from Suite No. 1 in G Major
J.S Bach (1685 – 1750)
Lento doloroso, sempre cantabile, from Four Pieces for Violoncello
Tania Leon (1943 – )
#tinyefforts2020  Alice H. Jones (1982 – )
1. Shadow boxing
2. Sun shower
Natasha Farny, cello